BlueModus News
Mar 15, 2018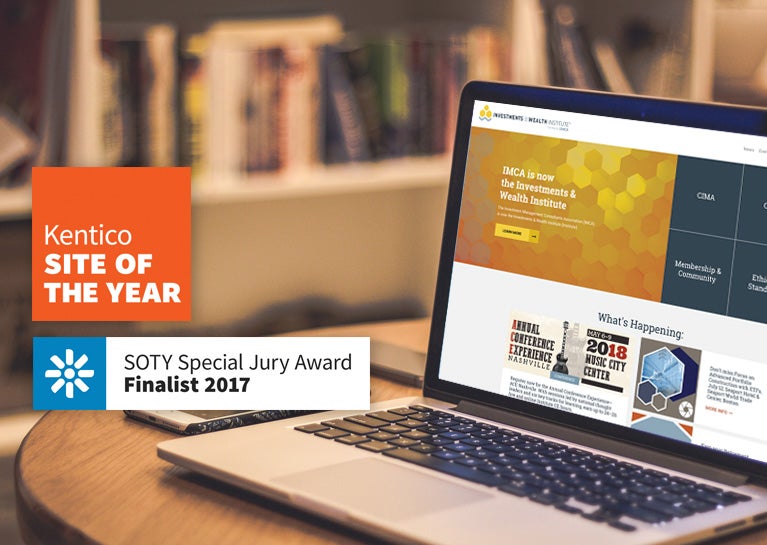 Kentico, as part of its Site of the Year 2017 contest, has selected The Investments & Wealth Institute website as a finalist for a Special Jury Award. One of BlueModus' recent projects, the site has been named one of three finalists in the category of "Best Online Marketing Implementation." Winners for this contest will be announced next week.
The Investments & Wealth Institute is a professional association, advanced education provider, and standards body for financial advisors, investment consultants, and wealth managers who embrace excellence and ethics. They deliver rigorous, highly practical education, through events, continuing education courses, and acclaimed certifications.
In a migration from Drupal to Kentico 10 EMS, the Institute's new site (https://investmentsandwealth.org) took advantage of nearly every Kentico feature available. The Kentico EMS tools were comprehensive enough to be able to fully replace the functionality of two existing marketing platforms, allowing the Institute to consolidate all their marketing tools into a single system, and provide a great cost savings for the company.
The Institute makes use of sophisticated marketing automation and highly segmented lists to drive email campaigns, deploying a comprehensive assortment of emails for loyalty, prospecting, and other marketing purposes. More than 250,000 emails per month are scheduled, each personalized to maximize a positive customer experience.
A personalized experience on the site itself is also planned in the near future: Based on known information from logged-in visitors, or inferred information based on lead source or behavior, this personalization will provide unique messaging for everything from individual certification programs and prospecting, to promoting upcoming events of interest to each particular user.
With the migration, the Institute has now been able to consolidate various disconnected marketing campaigns, in order to increase delivery, efficiency, and maintain consistent brand standards, and will continue to optimize these marketing efforts in the future.
View a list of all 2017 Jury Award Finalists on Kentico's website.
This is the second recent honor for the Institute website, which also earned a Top 10 Kentico Website award for February 2018.