BlueModus News
Aug 16, 2021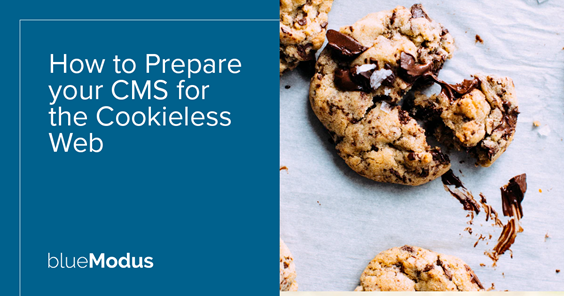 While the approaching cookieless web has apparent implications for advertising, inbound marketers who want to understand their customer journey from the prospect to the customer should also take steps to prepare. We've laid out the website considerations inbound marketers should be making as the cookieless web nears.
What is the Cookieless Web?
Announced in 2020 as part of Google's Privacy Sandbox initiative, Google revealed that its popular browser, Google Chrome, would be phasing out its acceptance of 3rd party cookies to create a more secure online experience for users. While they recently pushed back their timeline to 2023, standard advertising practices (ex: retargeting, etc.) and platforms have been moving to prepare for the end of one of the founding tactics for tracking and targeting user behavior as consumer privacy concerns (GDPR, CCPA, etc.) have come to the forefront.
Won't this just impact digital advertising?
While (understandably) most of the discussion has focused on the expected changes for advertising platforms, tactics, and less invasive tracking technology (Cohort tracking such as Google's FLoC and discussions of whether FLoC is actually less invasive), the move away from 3rd party cookies will also impact inbound marketing practices as well. Everything from SEO to attribution modeling to website analytics will have to adapt to a heavier reliance on first party data (data that your customers have opted to provide directly to you). In addition, the processes you've put in place to optimize for it as 3rd party reporting that many marketing organizations have relied on (Google Search Console, Google's Universal Analytics, Google Ads, etc.) for top-to-middle funnel reporting will become more generic, thematic, and trend-based.
While less severe than the impact to advertisers, the importance of having clean first party data, privacy-compliant content strategies designed to collect it, and reliable marketing infrastructure to target and report on it will become more important in the coming years.
How can I prepare my website for the Cookieless Web?
Gathering First Party Data
Arguably, the single most significant change to prepare for is that with less third-party data powering your marketing and its targeting, organizations will be more reliant on the first-party data they collect through their websites, apps, CMS, and marketing applications well as offline.
Common practices such as website personalization will begin to rely more heavily on the data profiles you've built around your users and customers. While this is not entirely a new approach, many marketing departments have long relied on 3rd parties to bring targeted traffic directly to personalized landing pages. However, as marketing becomes more reliant on first-party data, that targeting will rely more heavily on how well your organization collects, and most importantly, segments the data it owns.
As the 3rd party personalization inbound teams have relied on becomes less specific and more anonymous, thematic, and reliant on machine-learning (Google Analytics 4's heavier reliance on trends versus specific), having a website strategy that can fill those gaps will become vital.
How can you prepare for this?
Auditing our current CMS and its personalization capabilities. Many organizations, especially those using Headless CMS platforms, only use a fraction of the available features. Understanding your CMS's capabilities, especially collecting and targeting first-party data (personalization, etc.), is a vital step in knowing where you stand.
Auditing your first-party data collection processes from a marketing operations viewpoint. What data points are integrated? Which aren't? Are they being segmented in a way that's actionable for your marketing and revenue teams? Are you GDPR/CCPA compliant?
Implementing features and solutions, whether it's your CMS or new solutions that provide for real-time personalization, can help capture (in a compliant manner) relevant information about specific customers through their usage of the channels you own.
What to Read: Wunderman Thompson has a great review of what they expect to see from a CRM impact in collecting first-party data that's worth a look.
Content Strategy
Content strategy is at the core of inbound marketing. Yet, many organizations still rely heavily on 3rd party data to measure its popularity (Content with the most impressions, likes, shares, etc.) while struggling to measure its attribution and impact on revenue (Content that's driven the most MQLs, Closed Won, Referrals, Free-Trials, etc.). Moving the conversations from "Our website drove X leads" to "Our How-To Guide generated $X revenue" will become more and more important as content fills in the gaps left by the decreased use of 3rd party cookies.
Ensuring that your content strategy not only focuses on creating high-quality content but also that it's highly connected to your marketing operation processes will be more important than ever in the cookieless age. As 3rd party data becomes more generic, proving your content's impact on marketing activities will fall more and more to whether your department can answer questions such as:
What content is driving the most revenue?
What content works best at each stage of our customer's journey?
What content is driving the majority of our lead generation?
What content do our most engaged customers interact with?
How can you prepare for this?
Audit your marketing operation processes and begin the hard work of tightening the integrations between your marketing stack. Making sure your contents impact can travel seamlessly between your CMS and your CRM will be more and more vital.
Surface your content strategy into the main conversations of how to drive revenue through your funnel. Many of the founding practices of inbound marketing will apply here as you attach the most engaging content to each stage of your funnel. These will become even more crucial as you look for effective ways to get your customers to opt in and become interested in your products.
Start focusing more on intent rather than actions. Analyzing the intent behind why so many of your Closed-Won customers engaged with a specific video before closing is just as important as reporting that videos impact revenue. Understanding the intent behind why users at certain stages of your funnel with specific content begin to allow your content to replace the need for 3rd party tracking.
What to Read: SEJournal has a great article on Content as the New Cookie that is worth a read!
Implementing Server Side Analytics
If you use Google Analytics, you've likely heard about Google Analytics 4 Beta and Google's desire to move their Analytics engine toward a more machine-learning, insights engine as it tries to pair its Analytics offerings with its move towards increased privacy on Chrome. However, a lesser-known avenue that Google has been exploring is the idea of Server Side tagging, which it announced in August of 2020, which is still currently in Beta. While there are many caveats to Server Side Tagging in Google Tag Manager (ex: It only works with the new Google Analytics 4 properties), the core design is to help website owners have more control over their data and how 3rd parties use it. Server side tagging In Google Tag Manager will allow some added power over your data, such as:
How do I prepare for this?
While there are articles aplenty on trying to predict if the cookieless web will create a comeback for server-side analytics tracking, a heightened reliance on first-party data will undoubtedly make server side more attractive for some organizations wanting to ensure the first-party data they collect isn't at the mercy of increased privacy restrictions being enforced by browsers.
Auditing your current Google Analytics and Tag Manager use can help you understand what gaps and advantages server side tagging will create for your organization.
Setting up a new Google Analytics 4 property for your website (this can be done in tandem with your current Universal Analytics property with minimal effort)
Getting better acquainted with the new features in Google Analytics 4, Biq Query (a data warehouse available for Google Analytics 4 users that were once only available for Google Analytics 360 users), and GTM's server side tracking.
What to Read: An introduction to server side tagging by Google and Analytics Mania's What is Server Side Tracking in GTM is a worthwhile breakdown of the caveats and differences that server side tagging offers.