BlueModus News
Jun 19, 2019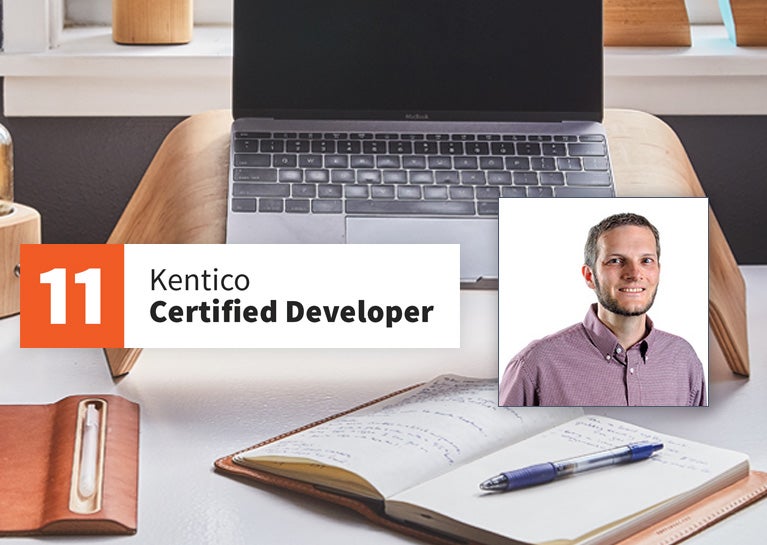 Congratulations to BlueModus Director of Development Nick Bushnell, who has recently become re-certified as a Kentico Developer by passing his Kentico 11 Certified Developer Exam. To pass this test, Nick demonstrated his knowledge of Kentico's features and functionality, as well as practical experience using the product.
"The process of preparing to take the Kentico certification exam is a nice opportunity to refresh my knowledge of features and functionality I don't work with day-to-day," shares Nick. "The test experience is much improved from two years ago and I appreciate the time Kentico has put into the exam's framework and questions."
The Kentico 11 Certified Developer Exam is composed of 50 online questions that must be completed within 90 minutes. The test focuses on knowledge such as the design, development, and maintenance of Kentico websites, as well as using MS SQL database management language, ASP.NET development, and creating data-driven web user interfaces.
"While we have a tremendous amount of experience with Kentico, our Developers and Solution Leads gain crucial knowledge and understanding of new features in the platform as we keep our certifications updated," says Dave Conder, BlueModus Founder and CTO. "This helps us deliver world-class Kentico-based solutions for our clients and partners."
As the #1 Kentico Solution Partner in the world, BlueModus remains proud of how many of its colleagues are certified on the platform. With the inclusion of Nick, BlueModus currently boasts 29 Kentico Certified Developers, as well as 18 Kentico Certified Marketers. BlueModus also maintains the status of Kentico Quality Expert.
To learn more about Nick, please check out his BlueModus profile. If you're interested in becoming Kentico certified, visit the Kentico Certified Developer Exam page for details.