BlueModus News
Feb 13, 2020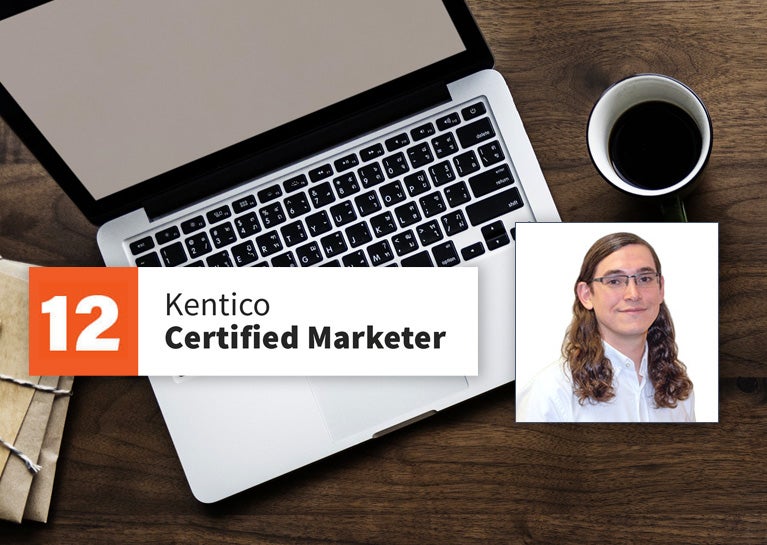 Join us in congratulating Josh Gray, Senior Web Developer at BlueModus, who recently passed the Kentico 12 Certified Marketer Exam to earn his credentials as a Kentico Certified Marketer. By passing this test, Josh demonstrated his deep knowledge of Kentico's functionality and features as well as his practical experience using the product.
"In order to best develop industry leading solutions for our partners, it is important for developers to understand how end users interact with the systems that they use," explains BlueModus Director of Development Josh Sherman. "In gaining the Kentico 12 EMS Marketer certification, Josh has demonstrated that he understands how marketers utilize Kentico, ensuring that he is an expert in building the correct solution for the task at hand."
A secure, online 90-minute exam made up of 50 multiple choice questions, the Kentico 12 Certified Marketer Exam focuses on many topics. Test takers must understand content optimization using both A/B and MVT testing, email marketing, web analytics, content personalization, contact segmentation (such as contact groups, personas, and scoring), conversions, contact management and activity tracking, marketing automation, content marketing, campaigns, PPC, and SEO. To learn details about taking the Kentico's Certified Marketer exam, click here.
"By achieving the Kentico 12 EMS Marketer certification, I have increased my understanding of the options Kentico provides which allows me to add that extra value into any solution I build," says Josh.
As the #1 Kentico Solution Partner in the world, BlueModus continues to prioritize that a majority of its colleagues are certified on the Kentico platform. Presently, the company has 40 Kentico Certified Marketers and 51 Kentico Certified Developers on staff.
To find out more about Josh's experience, please check out his BlueModus profile.