BlueModus News
May 10, 2021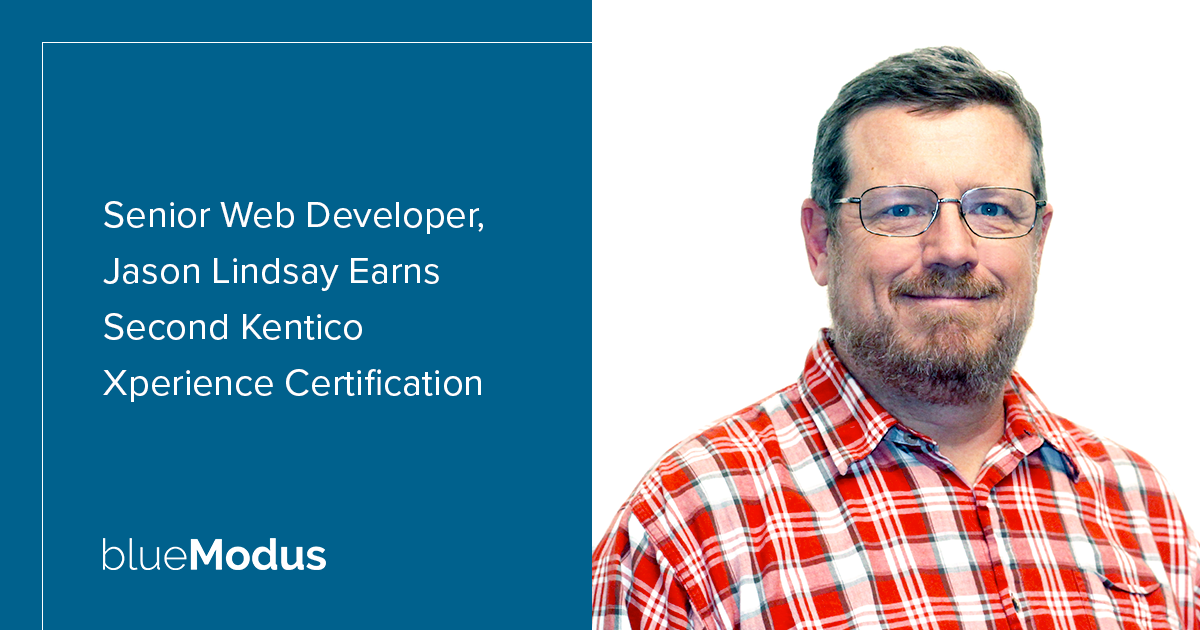 Congratulations to BlueModus Senior Web Developer Jason Lindsay, who recently became a Kentico Xperience Certified Marketer. This certification is Jason's second for the Kentico Xperience platform, having earned his Xperience Developer Certification in September 2019. Kentico Xperience is part of the Kentico Software product suite. It includes content management, digital marketing, and commerce tools in a single solution for creating engaging digital experiences across channels, on-premises, or in the cloud.
Kentico Xperience is built for marketers with a large portion of the platform focused on delivering and optimizing real-time customer-centric marketing campaigns across multiple channels using personalization, marketing automation, contact management, lead scoring, email marketing, A/B, multivariant testing, and web analytics. BlueModus implements hundreds of websites, intranets, and webstores for clients utilizing Kentico Xperience each year.
"I'm so glad Jason invested in this certification. It will help our customers discover how to use the powerful marketing capabilities in their Xperience projects," says BlueModus' Director of Development, Mike Wills.
BlueModus requests all of its' Technical Team also become certified Kentico Xperience Marketers because we want our colleagues to be valuable consultants to our clients by understanding Xperience's out of box features. This knowledge of the platform ensures they know how to use the platform as a content editor or marketer, just like our clients. The Xperience Certified Marketer exam helps individuals demonstrate their comprehensive understanding and in-depth expertise in defining and running practical marketing activities using Xperience's digital marketing features. The exam shows that you can select, define, run, and maintain successful digital marketing projects. In addition to the Xperience's features, the exam also covers a wide range of digital marketing in general, including – content marketing, pay-per-click advertising, email marketing, and search engine optimization. The exam itself is a 90-minute online secure test that consists of 50 multiple-choice questions.
"Although it was a challenging process, I appreciate the skills and knowledge I gained through this certification and I'm certain it will help me better serve our clients." Jason shared.
As the #1 ranked Kentico Solution Partner worldwide, BlueModus works hard to give our colleagues the time and support needed to become certified on all Kentico Software's products and feels this provides tremendous value to our clients and their projects. With Jason's addition, 57 BlueModus colleagues hold an Xperience Marketer Certification, and 42 colleagues hold an Xperience Developer Certification - more than any other Kentico Xperience Solution Partner. Additionally, BlueModus also has expertise in Kentico Software's sister platform, Kentico Kontent – a headless cloud-based content management solution. You can learn more about our commitment to Kentico certifications and client projects implemented on Kentico by visiting our website.