BlueModus News
Nov 27, 2018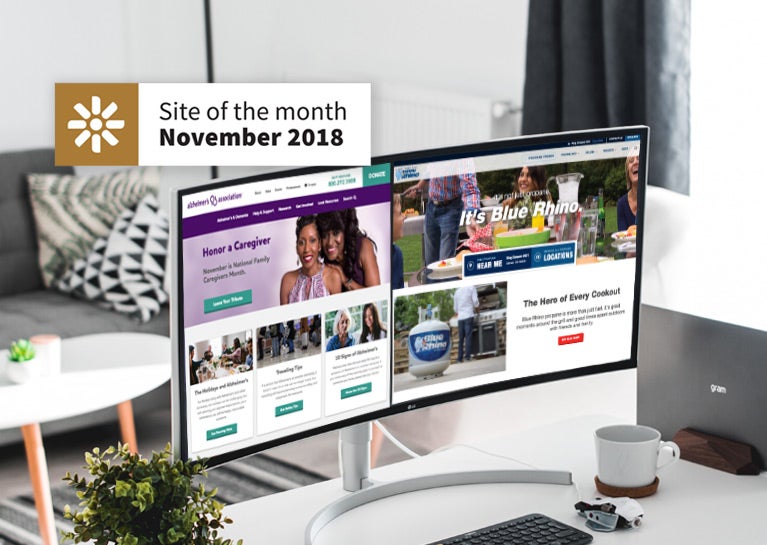 BlueModus is thrilled to announce that two recently launched Kentico projects, Alzheimer's Association (https://www.alz.org) and Blue Rhino (https://bluerhino.com) have each earned a Top 10 Kentico Website award for November 2018.
"We're honored to receive recognition from Kentico for our portfolio of work," says Becki Dilworth, BlueModus Vice President and Chief Marketing Officer. "It's a tremendous validation of the high level of collaboration, creativity, and technical expertise that was poured into both of these sites."
BlueModus provided a full technical website build for the Alzheimer's Association, the leading voluntary health organization in Alzheimer's care, support and research. They needed a web portal to serve their diverse audience, as well as manage more than 75 different local chapter sites. The implementation included many Kentico features, including robust support for more than 1,000 user roles and permissions, configured to securely support the home office and extensive network of chapter sites, all within the same system. A Spanish language mirror site is also supported using Kentico localization features.
Blue Rhino, as the leading brand of consumer propane exchange in the United States, needed a responsive site where consumers could learn about their propane exchange and find a propane location near them. As part of a complete website redesign, BlueModus overhauled Blue Rhino's popular location finder feature, using Kentico's GEO IP in conjunction with a Mapbox integration, that provides location-finder technology and maps out retailer locations. Site speed and performance have improved dramatically, and Blue Rhino has received highly positive feedback about the great new user experience.
On both projects, BlueModus collaborated closely with fellow Kentico Gold Partner BlueKey, whose digital strategy and UX/design work paved the way for a successful technical integration of each site.
To read more about these projects, along with the other monthly Kentico winners, visit Kentico's website.

About BlueModus
Based in Denver, Colorado, BlueModus provides technology solutions and support services that are focused on communicating effectively with businesses, consumers and stakeholders. With 17 years of experience and thousands of online marketing projects under our belts, and as the #1 Solution Provider of Kentico worldwide, we are a team of top-flight developers focused on delivering to scale with the agility of a smaller team.
About BlueKey
BlueKey is a full-service digital agency and close-knit team of digital thinkers and creators specializing in thoughtful content strategy, responsive web design and development, and digital marketing. They partner with ambitious brands to create and optimize digital experiences with a goal of increasing conversions and driving customer loyalty.
About Kentico
Kentico's products include Kentico EMS, the all-in-one CMS, E-commerce, and Online Marketing platform, and Kentico Cloud, the comprehensive cloud-first headless CMS and digital experience platform. Kentico EMS allows users to manage contacts and campaigns, track customer journeys, provide global e-commerce functionality, and measure and analyze the results to create and manage customer experiences easily in a dynamic business environment.