BlueModus News
Jun 09, 2023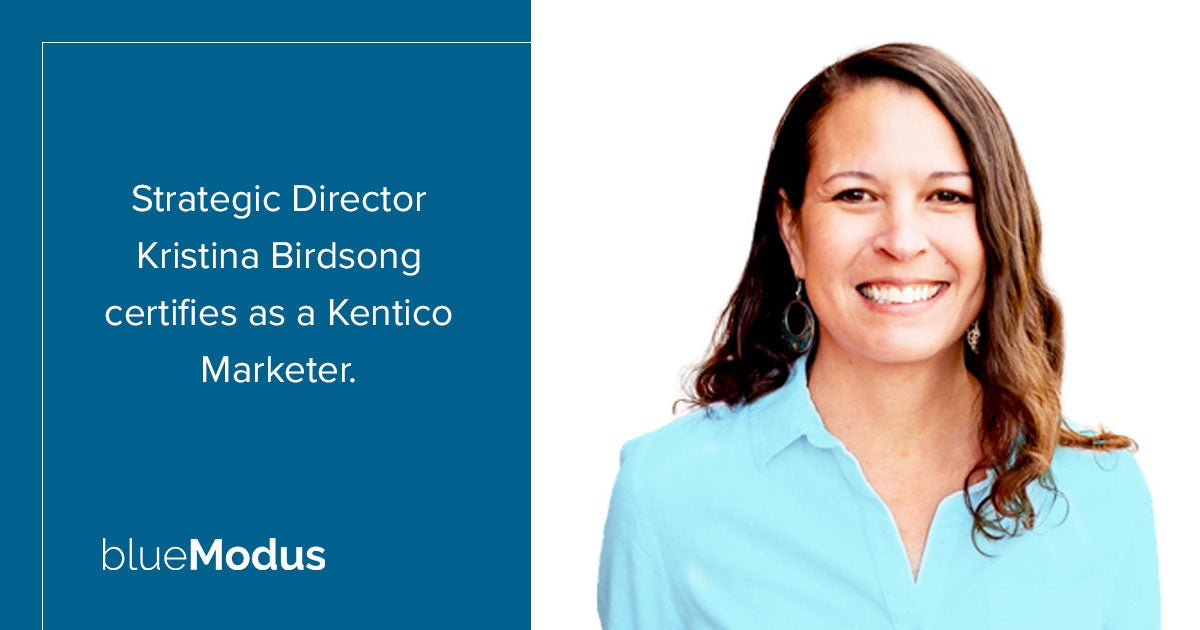 Congratulations to Kristina Birdsong, one of our newest colleagues. She has just been at BlueModus for a few weeks, yet she has already proven herself in many ways, including completing the Kentico Marketer certification test. Kristina is a Strategic Director acting as an account manager and digital strategist for many clients who utilize Kentico as their content management system (CMS). Kristina can support and serve her clients more effectively due to her expertise with Kentico.
"Obtaining the Kentico Xperience Marketing certification is another amazing skill set Kristina now has in her strategy portfolio, which she can leverage to help her clients implement and execute solutions to meet their strategic initiatives," says BlueModus' Managing Director Grant Knowlton.
Kentico is a digital experience platform (DXP) that provides content management, digital marketing, and commerce tools in a single .NET MVC solution for powering websites, intranets, and webstores. The Kentico Certified Marketer Exam is a secure online exam that comprises 50 questions completed within 90 minutes. It tests an individual's knowledge of Kentico's features and functionality. In addition, it requires them to demonstrate a comprehensive understanding of digital marketing topics, including content marketing, pay-per-click advertising, email marketing, and search engine optimization.
"I'm excited to be certified in Kentico and fully understand its marketing capabilities. It's a very robust system that can provide complex marketing opportunities for our partners," says Kristina.
BlueModus is the #1 ranked Kentico Implementation Partner worldwide. With the inclusion of Kristina, we employ 83 Kentico Certified Marketers and 61 Kentico Certified Developers – the most of any Kentico Partner. We are incredibly proud of the number of certified Kentico professionals on our team. If you want to learn more about our experience building client websites on Kentico, visit our Kentico Partner webpage or check out some of our Case Studies. Or contact us at curious@bluemodus.com or 303.759.2100. We love to talk about Kentico.