BlueModus News
Nov 15, 2021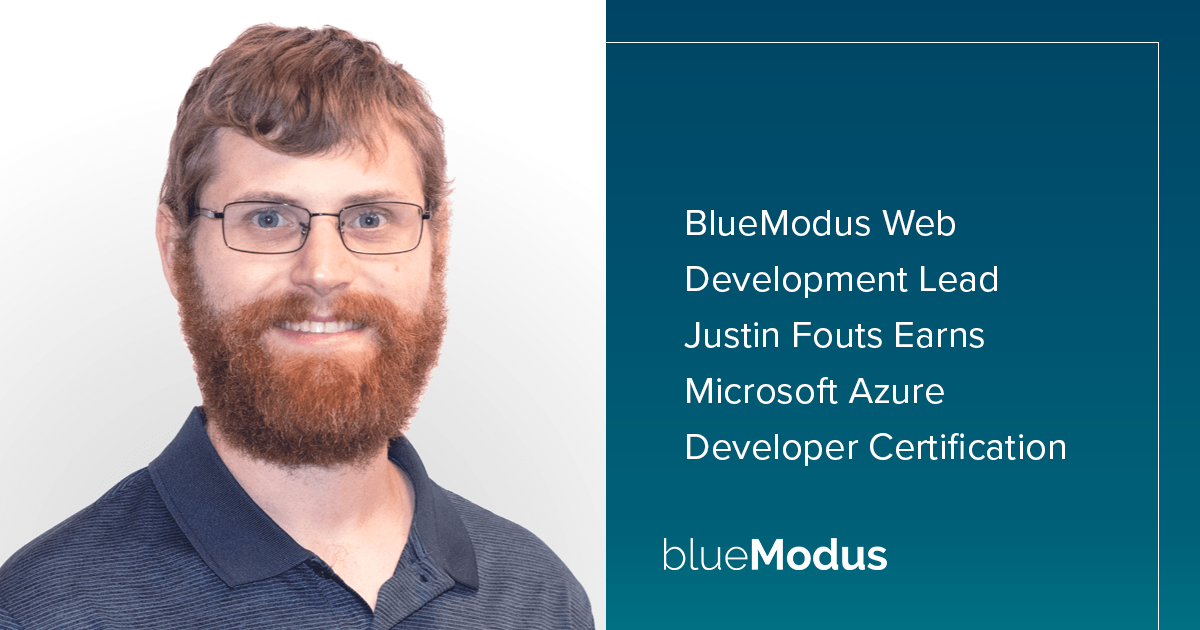 Congratulations to BlueModus Web Development Lead Justin Fouts, who recently earned his Microsoft Azure Developer certification. Technologists achieving this certification must demonstrate subject matter expertise in designing, building, testing, and maintaining cloud applications and services on Microsoft Azure. As Web Development Lead, Justin works directly on client projects, including supporting our clients' websites hosted on Microsoft Azure Cloud.
"A strong Azure implementation on a project has a clear and lasting effect on the success and overall cost of an application long term. I am excited to use my skills in Azure to strengthen our client's platforms in this way," says Justin Fouts.
Microsoft Azure Developer certification requires at least one to two years of professional development experience and experience with Microsoft Azure. In addition, the candidate for this certification must have the ability to program in a language supported by Azure and proficiency in Azure SDKs, Azure PowerShell, Azure CLI, data storage options, data connections, APIs, app authentication and authorization, compute and container deployment, debugging, performance tuning, and monitoring.
"By completing this certification, Justin has demonstrated his azure expertise and can leverage the Azure platform to meet client needs," says BlueModus' Development Director Dave Bromeland.
Without a stable and reliable infrastructure, the most innovative web projects mean nothing. Therefore, BlueModus starts every engagement with a deep understanding of our clients' hosting environments, associated DevOps practices, and security, compliance, and performance requirements. Visit our Infrastructure and DevOps page to learn more about our services on cloud hosting support, automated builds, testing, releases, and security.