Jesse Hormachea
Apr 17, 2019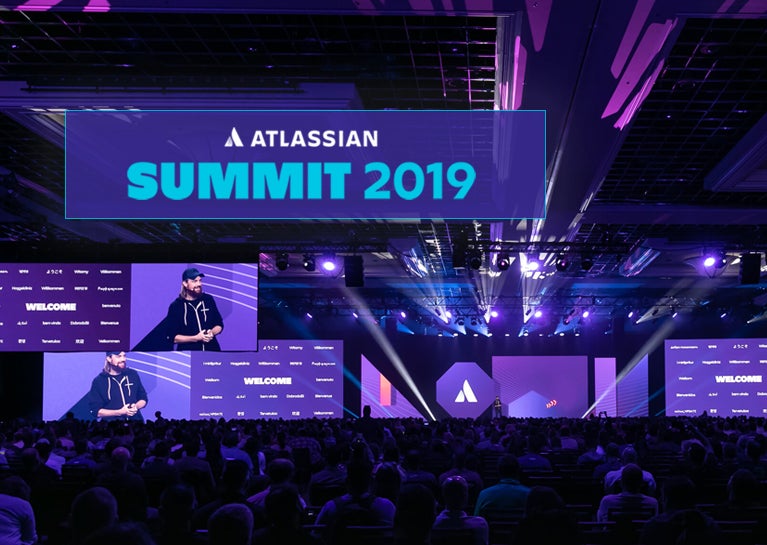 The Atlassian Summit is a wonderful mix of people, roles, and nationalities coming together to talk about people, process, and tools. It's traditionally been an event that energizes me for the months ahead and I always come away with new ideas, tips, and process improvements for my team. The learning not only comes from the presenter sessions and booths at the expo but also from all of the wonderful people that attend.
At BlueModus, our project managers and technologists rely heavily on several Atlassian products, including Jira, Confluence, and Bitbucket, in order to successfully manage client projects. So, after recently attending my third Atlassian Summit earlier this month, I decided to take a moment to reflect on the value this event brings to me personally and to my team.
Going into this year's summit, I wondered if the conference would maintain the closeness of the community, with the change in venue to Las Vegas and the size and after-session options expanded from previous years. Fortunately, the new venue did not seem to affect the quality of the sessions or the ability to meet new people. I was able to connect with many different types of people with different roles during my time there, and made the extra effort to forge some new connections. I've always learned just as much from colleagues over a beer or lunch during the Summit as I have attending the speaker sessions. It's always been fun to randomly meet up with an Atlassian product owner at a happy hour, just get to know them and learn what they do.
This year also seemed much more diverse than previous Summits. I noticed a lot more speakers and attendees of color, as well as a greater diversity of ethnic backgrounds. There was also a gender balance that Atlassian should be proud of. I can't imagine many tech conferences that can boast this level of diversity, so it's awesome to see the community grow in that direction
As for the sessions themselves, I found they were overall very much worth my time and I'd like to share a few that I found extremely useful and will be bringing back to share with the BlueModus team.
Empathizing Your Way to Effective Teamwork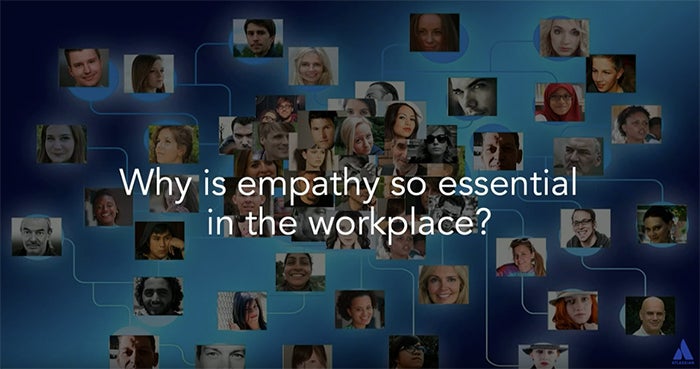 This session focused on forming a bond with colleagues to gather mutual perspective and improve the team's productivity. Studies have shown that when complete strangers find a common bond, they do better work together. This could be anything from connecting with a colleague over a TV show to discussing weekend plans. Whatever it is, it's key to find something to talk about — other than the weather. I feel that BlueModus does a great job of this, including 1:1s with the team, off-site events, pre-stand up banter, and a culture of remote work inclusivity. This approach does take time and it requires the team to proactively seek empathy, but it is well worth it in the end. Watch the presentation here.
The "Pipeline Problem" and Other Myths About Workplace Diversity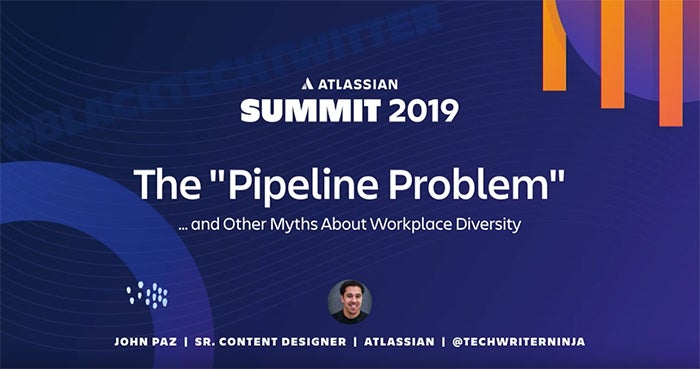 This was a fascinating session led by a passionate speaker, covering a topic I believe BlueModus strives to reflect. One fact stood out to me that changed what I'd previously believed was a pipeline problem: 6% of Computer Science and Engineering graduates are Black. However, only 1 to 2% of the current U.S. tech workforce is represented by this minority group. With the myth of the "pipeline problem" debunked, it seems to me the real problem is in how the tech community hires. The speaker noted that one part of the issue is that organizations often search for new hires in very high cost of living areas, which results in the exclusion of a lot of minority talent. While BlueModus has done an excellent job with remote employee hiring and work-from-home policies that accommodate people of diverse backgrounds and personal needs, we can all be doing more, from the individual level up to the management team. This video shares strategies for how all roles and backgrounds can be advocates for diversity and equity. Watch the presentation here.
Digital Distractions and Tech Temptations: How to Find your Focus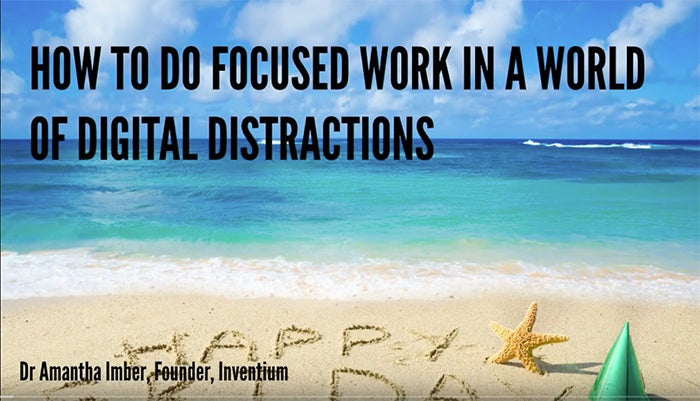 The last session I wanted to share was my favorite. I would have loved to toss our project management team into a teleporter and have them join me for this one. In fact, I've already shared this video with my team and asked they set aside the 30 minutes to watch. (No multi-tasking!) The key takeaway for me here is our project managers need to recognize the priority of "deep" work – as that is what we're hired to do as knowledge leaders! The "shallow" work obviously has its place, the Slack messages, emails and meetings all have to get done. While there's also a lot of instant gratification and a feeling of productivity when we multi-task, we are really just achieving that same high we get by scrolling endlessly through social media, Reddit, or anxiously awaiting that next text message from a friend. The challenge is that project managers have to find a balance and set time for both shallow and deep work. Watch the presentation here.
This topic has been my personal mission at BlueModus and a goal for our project management team to achieve. It's an incremental process, but one of my favorite new initiatives we've implemented is our "No Meeting Tuesday" policy. Outside of stand-up, our goal is to clear a path for a full day of deep work across the whole team from developers to project managers, up to our executive team.
In all, I returned to Denver with a lot of great ideas and inspiration from this year's Atlassian Summit, and am already looking forward to heading back next spring to make new connections at next year's conference.