BlueModus News
Jun 26, 2019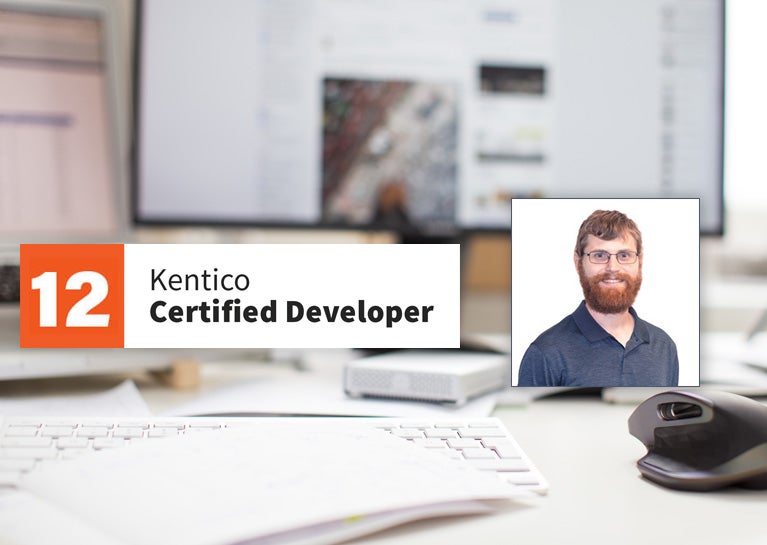 Congratulations to Justin Fouts, a Senior Web Developer at BlueModus, who recently became certified as a Kentico Developer by passing the Kentico 12 Certified Developer exam. To pass this test, Justin needed to demonstrate not only knowledge of Kentico's features and functionality, but also practical experience in using the product.
"As a Kentico Certified Developer, I am able to provide more sustainable and valuable solutions to our clients using the Kentico platform," shares Justin. "It has enabled me to quickly apply the built-in features for most applications, while easily extending the platform to adapt a solution for more complex domains."
The Kentico 12 Certified Developer Exam is a secure, online exam that consists of 50 questions that must be completed within 90 minutes. From a high-level perspective, developers who take the exam need to show their expert understanding of such topics as designing, developing, and maintaining Kentico websites, ASP.NET development, using the MS SQL database management language, and creating data-driven web user interfaces. Although test-takers are allowed to use any resource they find helpful during the hour, it must be taken individually.
"A big congratulations to Justin," says Josh Sherman, BlueModus Director of Development. "His certification is a great example of how dedicated our developers are to ensuring that they have the right skills to get the job done for our partners."
As the top Kentico Gold Certified Partner in the world, BlueModus makes it a priority for its colleagues to become certified on the Kentico platform. With the certification of Justin, BlueModus currently retains 31 Kentico Certified Developers, as well as 18 Kentico Certified Marketers.
If you are interested in studying to become Kentico certified, you can check out the Kentico Certified Developer Exam Page for full details.