BlueModus News
Aug 11, 2023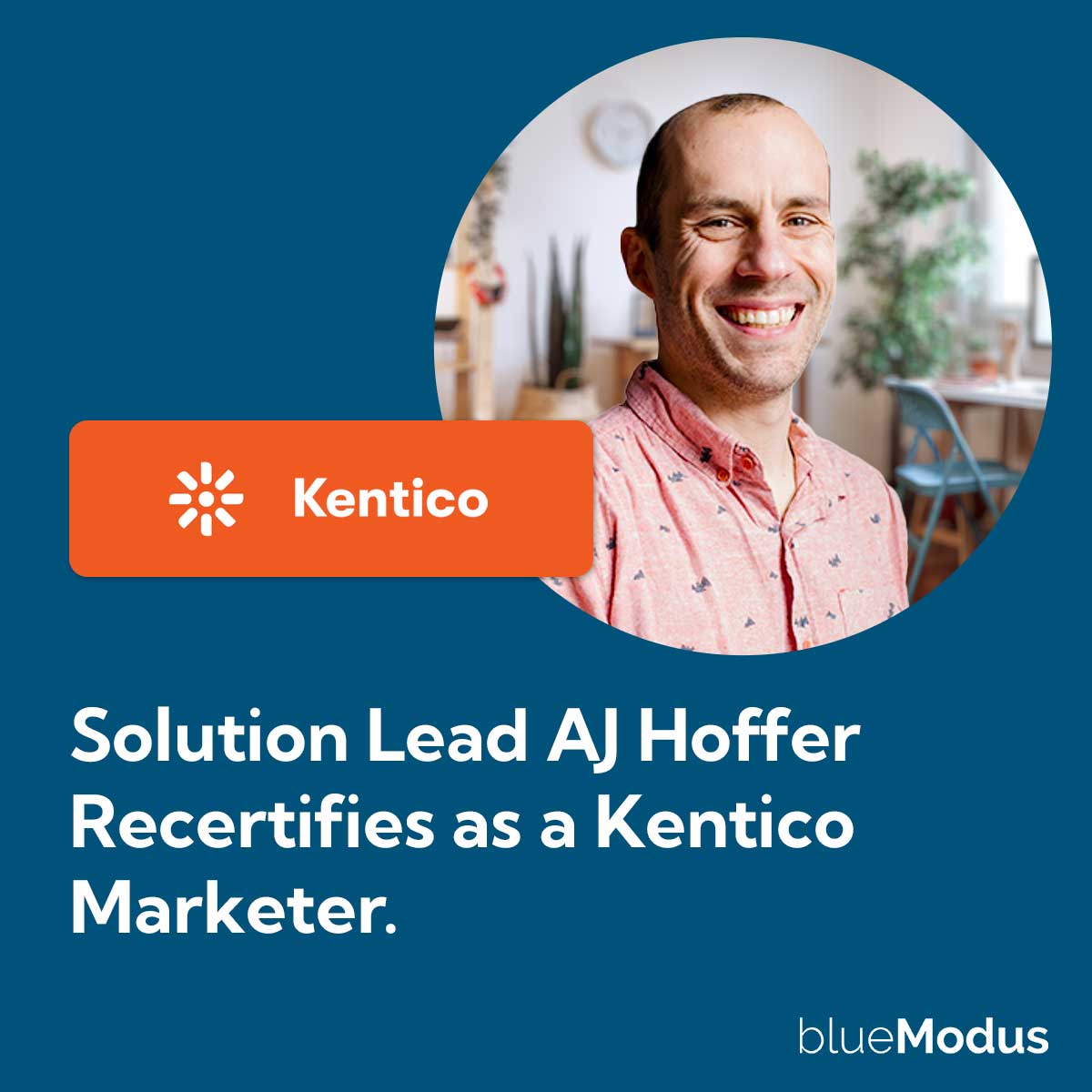 We would like to congratulate our colleague, AJ Hoffer, on successfully renewing his Kentico Marketer certification exam. AJ holds the position of Solution Lead at BlueModus and is directly involved in building and maintaining client websites, intranets, and webstores. Given that many of our clients rely on Kentico as their content management system (CMS) for their websites and digital marketing, AJ's certification renewal ensures that he is equipped to provide exceptional support to our clients.
According to Aaron Brosey, BlueModus' Development Director, "AJ's certification as a Kentico Marketer demonstrates his commitment to not only delivering top-notch technical expertise but also possessing strong business acumen."
Kentico is a .NET MVC solution that offers a comprehensive set of tools for content management, digital marketing, and commerce, empowering websites, intranets, and webstores. The Kentico Certified Marketer Exam consists of 50 questions that must be completed within 90 minutes. Candidates are evaluated on their comprehensive understanding of digital marketing topics, including content marketing, pay-per-click advertising, email marketing, and search engine optimization, in addition to their knowledge of Kentico's features and functionality.
AJ emphasizes the significance of leveraging Kentico's marketing features, stating, "Being able to write code for a Kentico website is just the beginning. Understanding how to utilize Kentico's marketing features can contribute to the constant improvement of a website by measuring critical factors, such as user interaction."
As the world's leading Kentico Implementation Partner, BlueModus employs 83 Kentico Certified Marketers and 57 Kentico Certified Developers, making us the most experienced Kentico Partner. To gain insights into our expertise in building client websites on Kentico, we encourage you to explore our Case Studies or visit our Kentico Partner webpage. We are always excited to discuss Kentico, so please feel free to contact us at curious@bluemodus.com or 303.759.2100.