BlueModus News
Jul 07, 2020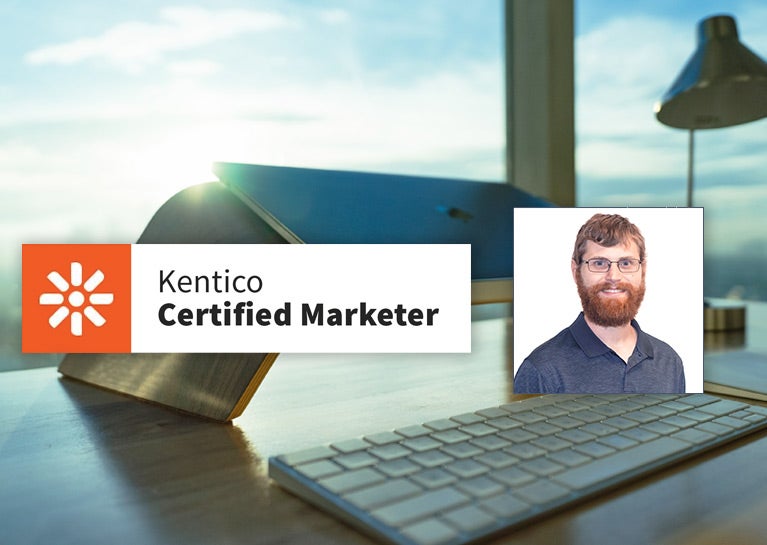 Congratulations to Justin Fouts, Web Development Lead at BlueModus, on recently passing his Kentico Xperience Certified Marketer Exam, earning him the credentials of Kentico Xperience Certified Marketer. In order to achieve this accreditation, Justin had to demonstrate his practical experience using the product as well as deep knowledge of the platform's features and functionality. Justin is also a Kentico Xperience Certified Developer earning that certification in May 2019.
" A Marketing Certification widens my range of Kentico skills and helps bridge the gap from my technical skills to the marketing skills that we use every day while working with MarTech companies," shares Justin.
A 90-minute online secure test, the Kentico Xperience 12 Certified Marketer Exam consists of 50 multiple choice questions that focus on a multitude of topics. To succeed, test takers need to understand email marketing, search engine optimization, pay-per-click, contact segmentation (such as contact groups, personas, and scoring), contact management and activity tracking, content optimization using both A/B and MVT testing, content marketing, conversions, campaigns, marketing automation, content personalization, and web analytics.
"We all know Justin is commitment to technical excellence and his certifications reflect that," notes Mike Wills, BlueModus Director of Development "This one assures customers that Justin knows the breadth of Kentico's marketing features and he'll help them get the most from the platform."
BlueModus, as the #1 global Kentico Solution Partner, consistently prioritizes having the majority of its colleagues certified on the platform. At present including Justin, there are 49 Kentico Xperience Certified Marketers and 49 Kentico Xperience Certified Developers on the BlueModus team.
To learn more about how to become Kentico Xperience Marketer Certified, visit Kentico's training page. Or to find out about Justin's experience, please see his profile on the BlueModus website.