BlueModus News
Jun 03, 2022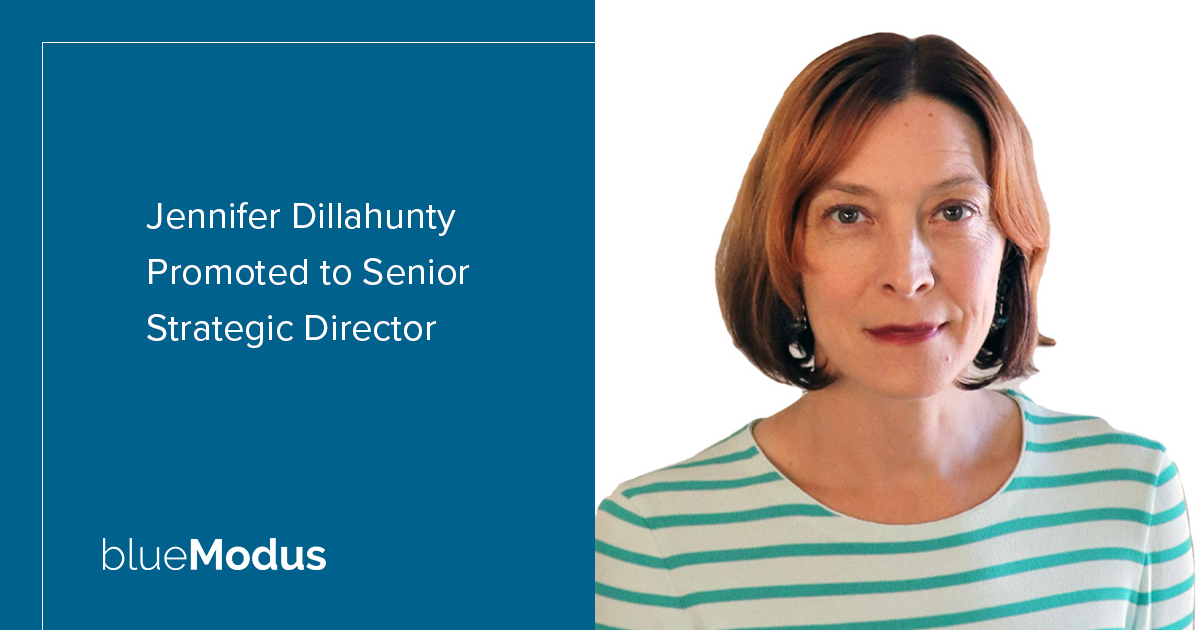 BlueModus is pleased to announce the promotion of Jennifer Dillahunty to Senior Strategic Director. Jennifer will continue to work directly with clients as a strategic consultant and product owner assisting them in identifying new opportunities to grow their web presence. In this new role, Jennifer will also support her manager, Managing Director Grant Knowlton, in mentoring new colleagues who join BlueModus and processes across the Delivery Team.
"Congratulations to Jen as she moves into the Senior Strategic Director role. She cares for her team, cares for her clients, and plays a huge role in helping both grow. She balances priorities and helps set everyone up for success. I am excited for her to expand her leadership skills and guide the strategic team to future success," says Grant.
Jennifer has extensive experience in both account management and software development. Her focus in the last eight years has been on program management and strategy, working with teams and clients to develop products and solutions in a variety of industries. Since joining BlueModus in May 2018, Jennifer has become an extremely valuable member of the BlueModus team. In addition, she has contributed to the American Campus Communities, Arthritis Foundation, CITGO Petroleum Corporation, Doggett Equipment, Impinj, and Innovage projects at BlueModus.
"I appreciate the opportunity to continue to grow at BlueModus and to mentor colleagues on the Strategic Director team. The overall growth at BlueModus is a testament to our strong culture and leadership, trusted client partnerships, and amazing colleagues that I get to work with every day," shared Jennifer.
Congratulations to Jennifer on his well-deserved promotion. We are excited to see her career continue to advance at BlueModus.