BlueModus News
Jul 12, 2023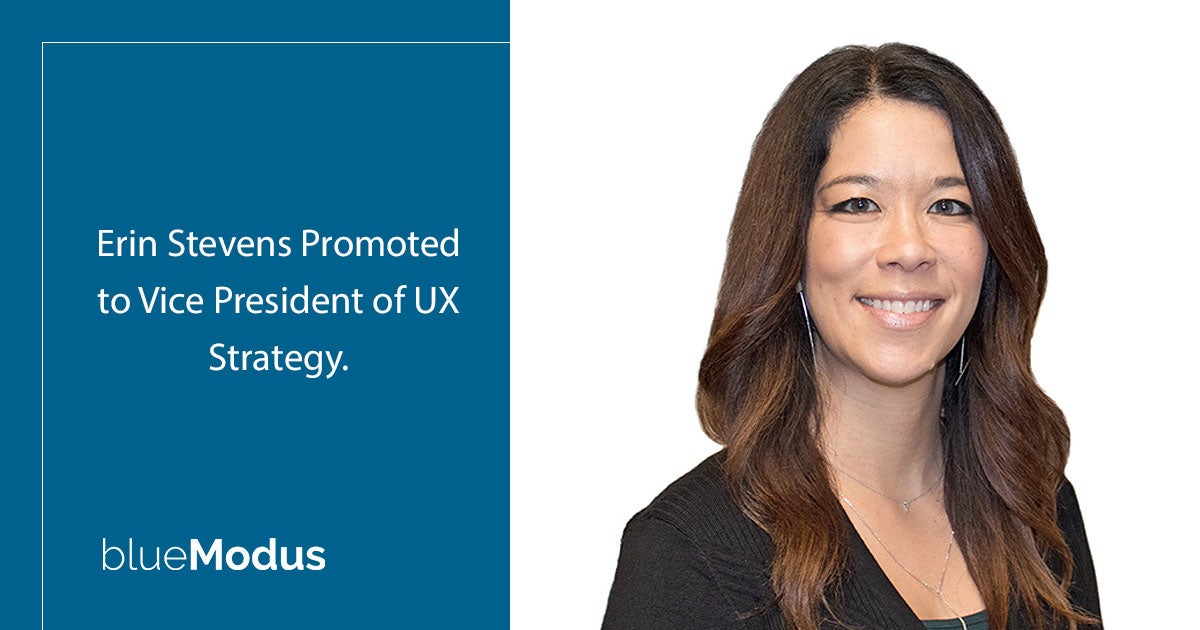 We love seeing our colleagues grow at BlueModus. We also love seeing our colleagues help BlueModus grow. Erin Stevens exemplifies a colleague who has expanded her skills and talents and leveraged this growth to elevate BlueModus in amazing ways.
Erin joined BlueModus in October 2019 as a Director of Strategic Solutions. She was quickly seen as an incredibly talented strategist, information architect, and user experience guru. This led to Erin being promoted to Director of User Experience in July 2021. Over these past 18 months, Erin helped our UX and Strategy practice grow by championing the simple principle that design isn't just about aesthetics. It's the art of making things usable. It's about telling a story and bringing things to life. Erin has helped create that story for many of our most significant projects.
"More than anyone I have ever worked with, Erin has a special gift in being able to quickly understand a business and bringing real, actionable strategic insight to help them improve their digital landscape," says BlueModus' Vice President and Chief Strategy Officer, Becki Dilworth. "She will have a huge impact on our clients and their ability to deliver customer experiences that really have an impact."
Earlier this month, Erin was promoted to Vice President of UX Strategy. As BlueModus continues to expand our UX and Strategy practice in exciting new ways, we knew Erin was the perfect colleague to continue to lead this evolution. In this new role, Erin will be focused on what tools, processes, and people we need to continue to take user experience for our clients to the forefront of every website and web application. She will be leading the charge of where BlueModus moves next.
"I am honored and grateful to be given the opportunity to help BlueModus extend our UX and Strategy practices. It's exciting to take on this role and work closely with our team to deliver solutions that are not just websites, but experiences," shared Erin.
Congratulations to Erin on her promotion and expanded role. Our entire team is excited to have Erin continue leading us forward.