BlueModus News
Jul 10, 2023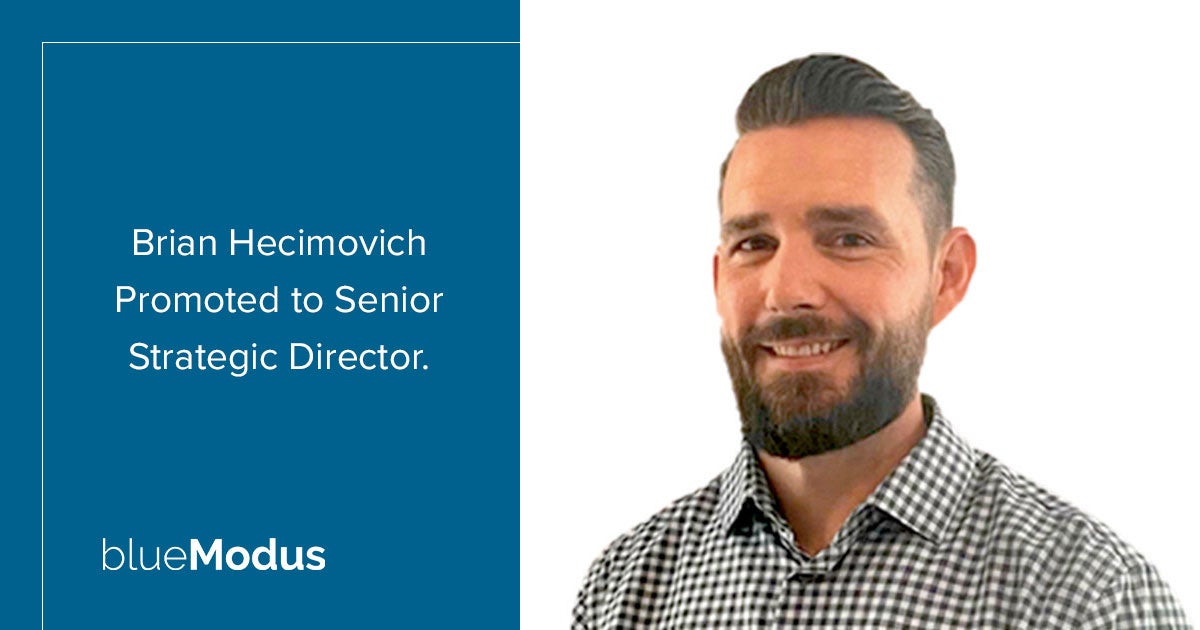 BlueModus is pleased to announce the promotion of Brian Hecimovich to Senior Strategic Director. Brian will continue to work directly with clients as a strategic consultant and product owner assisting them in identifying new opportunities to grow their web presence. In this new role, Brian will also support his manager, Managing Director Tiffany Silvera, in mentoring new colleagues who join BlueModus and processes across the Delivery Team.
"I am excited to see Brian take this next step in his career. I trust Brian to guide our newest team members and help them become successful here at BlueModus. He excels in the role of Strategic Director, always advocating for our clients while still taking care of our team, and I can't wait to see the additional impact he'll be able to have in this expanded role," says Tiffany.
Brian has extensive experience in both account management and software development. Over the past ten years, he has supported many clients in the B2B, B2C, financial services, healthcare, and recruitment industries. Since joining BlueModus in June 2021, Brian has become an extremely valuable member of the BlueModus team. In addition, he has contributed to the Options Clearing Corporation, Mainfreight, Colorado Housing and Finance Authority (CHFA), and Vitalant projects at BlueModus.
"I am thrilled and honored to step into the role of Senior Strategic Director at BlueModus. It presents an incredible opportunity to contribute even more towards the growth and success of our clients. It's a privilege to support Managing Director Tiffany Silvera in mentoring our talented colleagues and enhancing processes across the Delivery Team. I am grateful for this new chapter and eager to continue adding value to BlueModus's growth journey," shared Brian.
Congratulations to Brian on his well-deserved promotion. We are excited to see his career continue to advance at BlueModus.