BlueModus News
Oct 26, 2022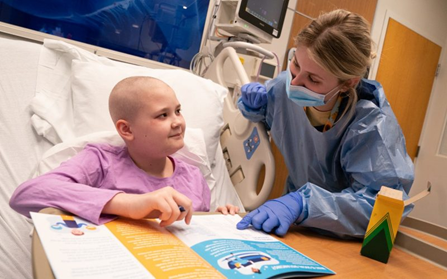 Over the years, we have been able to celebrate our colleagues and give back to the community through our monthly BlueModus Gives Back program. Each month, our Management Team chooses two colleagues who embody the company's values and allow them to select a charity for a donation.
This month, we have selected Senior Web Developer Ryan Peters. He is a talented, self-sufficient technologist who steps up when anyone on his team needs help or coverage. Simply put, he is a guy who gets stuff done – and well.
Ryan has selected the St. Jude Children's Research Hospital for a $500 donation from BlueModus on his behalf. More than 70 years ago, Danny Thomas was a young entertainer with a baby on the way. Work wasn't easy to come by, and his despair grew. He turned to St. Jude Thaddeus, the patron saint of hopeless causes, and vowed: Show me my way in life, and I will build you a shrine. That prayer marked a pivotal moment. Soon after, he began finding work, eventually becoming one of the biggest stars of radio, film, and television of his day. He was on Make Room for Daddy, later known as The Danny Thomas Show. Danny used his fame to fulfill his vow and to change the lives of thousands of children and families. In 1962, St. Jude Children's Research Hospital opened in front of a crowd of 9,000 in Memphis, Tenn.
The mission of St. Jude is to advance cures, and means of prevention, for catastrophic pediatric diseases through research and treatment. Consistent with the vision of our founder Danny Thomas, no child is denied treatment based on race, religion, or a family's ability to pay.
"I selected this charity because it's for children, children dealing with life situations most adults cannot handle. I've been donating to them for the better part of 20 years, and 100% of the donation goes to the kids," shares Ryan.
Please visit the donate portion of their website to learn more about the St. Jude Children's Research Hospital and how you can support their cause.