BlueModus News
Nov 22, 2021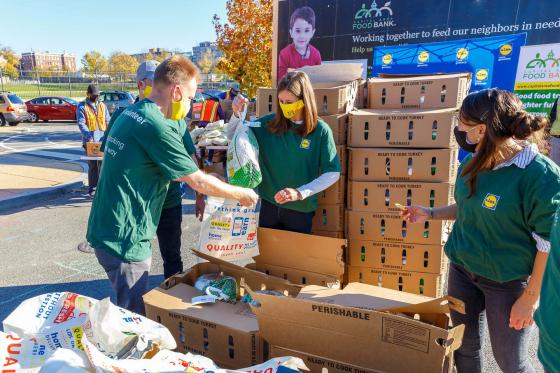 For years, the BlueModus Team has participated in a Thanksgiving canned food drive to help combat hunger in our colleagues' communities. However, with the pandemic and our company moving entirely virtual for the past few years, this has shifted to a fundraiser with Feeding America to help support those in need across our country.
In the wake of the COVID-19 pandemic, unemployment and food insecurity soared. In 2021, over 60 million people turned to food banks and community programs for help putting food on the table. According to the USDA, more than 38 million people, including 12 million children, in the United States are food insecure. Every community in the country is home to families who face hunger. But rural communities are especially hard hit by hunger. Many households that experience food insecurity do not qualify for federal nutrition programs and visit their local food banks and other food programs for extra support.
For over 40 years, Feeding America has responded to the hunger crisis in America by providing food to people in need through a nationwide network of food banks. Feeding America is the nation's largest domestic hunger-relief organization—a powerful and efficient network of 200 food banks across the country. Annually they feed 40 million people at risk of hunger, including 12 million children and 7 million seniors.
Thanks to our colleague and Solution Lead, Jen Wolke, who again helped this fundraiser with Feeding America. Our team members raised $3,267 to benefit Feeding America throughout the first half of November, including a $1,000 contribution from BlueModus itself.
"As someone fortunate to work at an organization which has provided security and stability to its colleagues through challenging times, I feel incredibly lucky to be able to donate to such a great cause. I appreciate the support of our colleagues who generously contributed and the opportunity to help coordinate this effort with the encouragement of BlueModus," Jen Wolke.
You can help join us in fighting the hunger crisis in our country by donating to the Feeding America BlueModus Team page. You can also learn more about Feeding America or set up your fundraiser by visiting their Team Feed website.