BlueModus News
Feb 24, 2023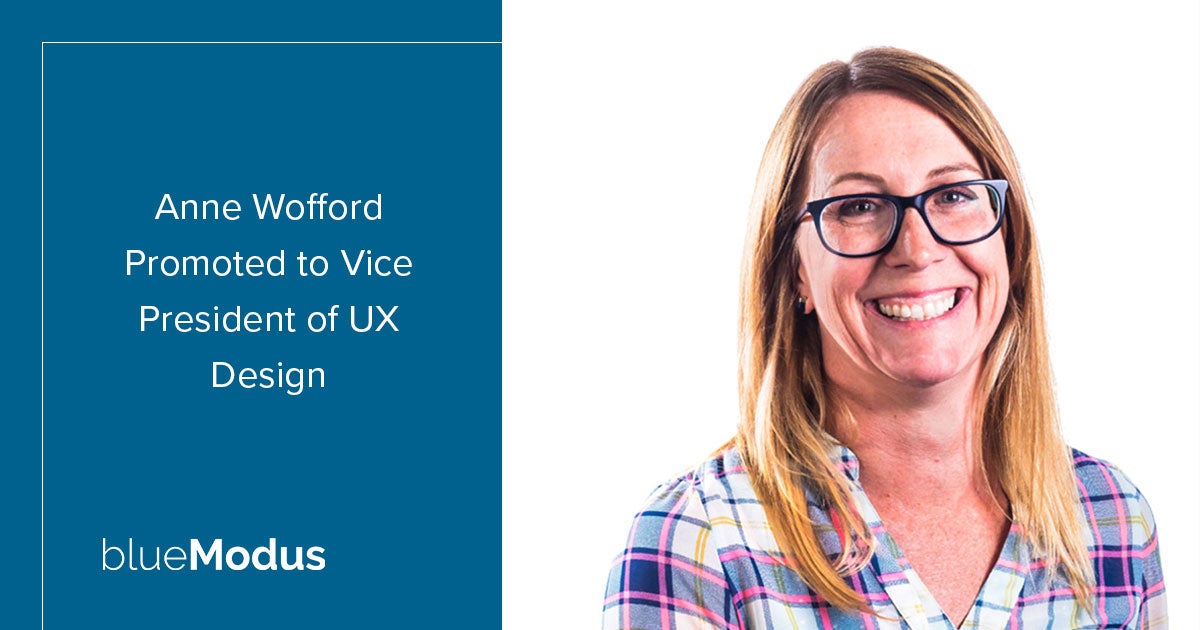 We love seeing our colleagues grow at BlueModus. We also love seeing our colleagues help BlueModus grow. Anne Wofford exemplifies a colleague who joined our team and grew herself, and helped BlueModus grow in amazing ways.
Anne joined BlueModus in April 2018 as a Senior UX Designer/UI Developer. She was quickly seen as an incredibly talented web designer, developer, and leader for this team. Over the years, Anne helped our team standardize tools and processes but also grew our practice by demonstrating that amazing design would lead to more client work and help BlueModus gain new clients. In 2020, Anne was promoted to Creative Director.
"I am so excited to have Anne take this next step with BlueModus to help expand and grow our user experience, design, and interaction team. Anne's award-winning creative designs and ability to lead a team make her a perfect fit for this new role. I can't wait to explore these new opportunities alongside her," says BlueModus' Vice President and Chief Operating Officer, Jesse Hormachea.
Earlier this month, Anne was promoted to Vice President of UX Design. As BlueModus continues to expand our UX Design practice in exciting new ways, we knew Anne was the perfect colleague to continue to lead this evolution. In this new role, Anne will lead a team of UX Designers focused on delighting our clients with compelling user experiences, data-driven information architecture, and beautiful visual designs that lead to exceptional websites and web applications.
"We have exciting times ahead at BlueModus. I'm grateful for the opportunity to expand our design and UX services and look forward to further developing our creative offerings alongside our incredibly talented team," shared Anne.
Congratulations to Anne on her promotion and expanded role. Our entire team is excited to have Anne continue to lead our UX Design practice.