BlueModus News
Jul 17, 2023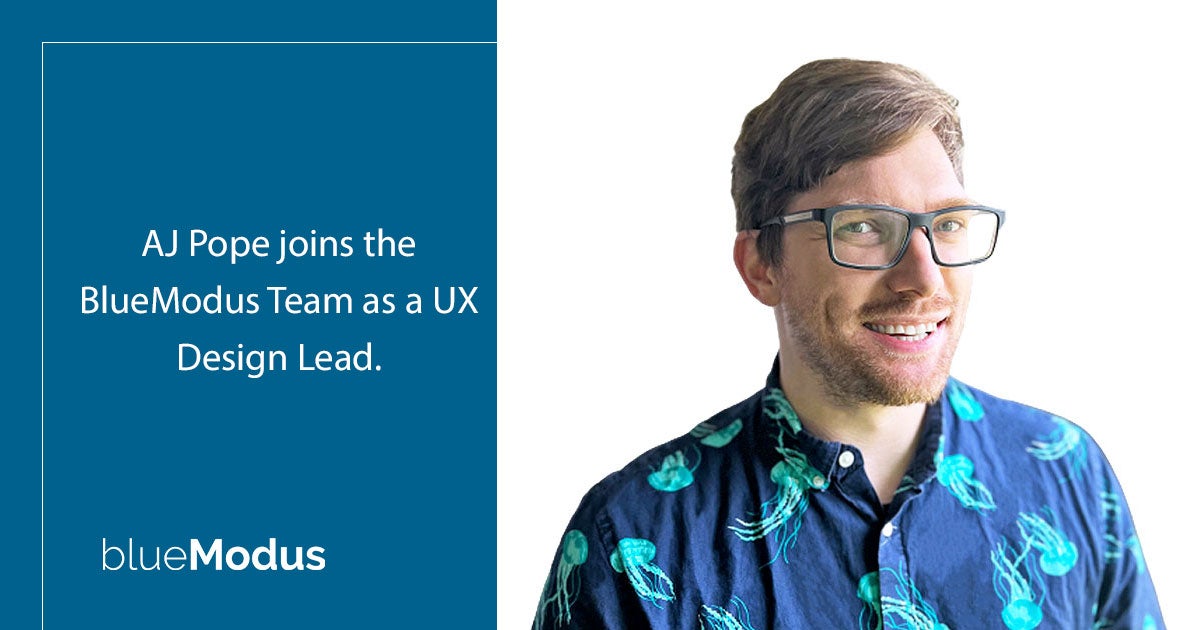 We are excited to announce that North Carolina-based AJ Pope has joined the BlueModus as a UX Design Lead. AJ graduated from UNC-Greensboro with a Media & Film Production degree with dreams of becoming an animator. Since the film industry is not necessarily booming in North Carolina, he took his skills and experiences and focused on Graphic Design, eventually leading to UX/UI Design. He has been a UX/UI Visual Designer for over five years, working with clients on stakeholder discussions, strategy, design, and usability testing. He has worn a multi-disciplinary designer hat working on print materials, motion graphics, signage, tradeshow booths, and even 3D modeling. At BlueModus, AJ will work directly with our clients to understand their business needs, translate project requirements into wireframes and mockups, and design medium to large websites, webstores, and intranets.
"BlueModus stood out during the interview process. Everyone I met had a wide range of skill sets, showed how collaborative the team is and how much they enjoy working together," shares AJ. "You could feel the positive energy coming from everyone, and that was something I wanted to be a part of."
Since 2015, AJ has been Lead Visual UX Designer at Beacon Technologies, specializing in web design and analytics for higher education clients. At Beacon, AJ led UX design strategies for clients focused on user research, site usability, user path analysis, and creating interactive graphical mockups. From 2013 to 2015, AJ was a Marketing Coordinator and Graphic Designer at John Davenport Engineering.
"I'm excited to welcome AJ as the newest member of the UX Design Team. He is a talented designer and UX strategist with extensive experience leveraging data and insights to shape UX recommendations and designs. I am confident in AJ's ability to create a meaningful impact on our clients and our team and look forward to his contributions," says BlueModus' Vice President of UX Design, Anne Wofford.