BlueModus News
May 04, 2018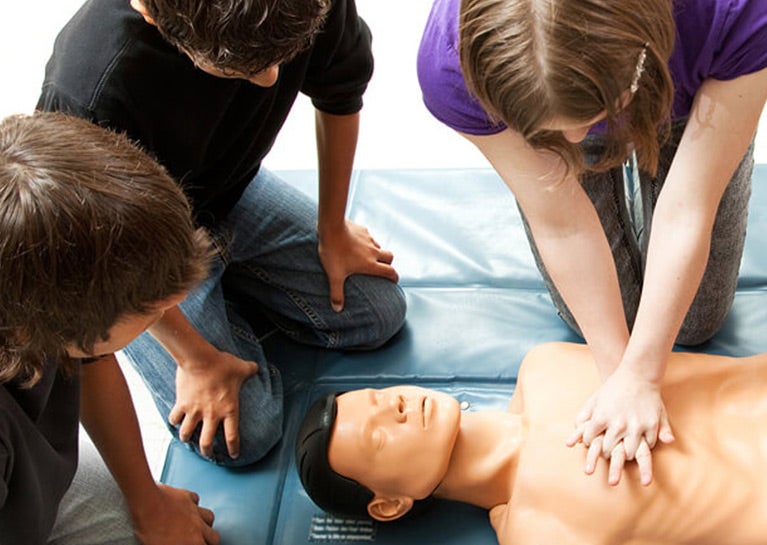 Workplace injuries are more common than most people think. Injuries vary from minor cuts and bruises, to serious trips, slips, and falls, to even potentially fatal issues such as heart failure. In the minutes after a trauma, knowing how to provide first aid to someone can make a world of difference to the outcome, and time is of the essence. Knowing what to do in these situations can be the difference between someone living or dying, between a temporary or permanent disability.
BlueModus strives to not only create a collaborative, challenging work environment for its' colleagues, but also a safe workplace. Recently, eight Denver BlueModus colleagues took time out of their busy schedules to take First Aid, Cardiopulmonary Resuscitation (CPR) and Automated External Defibrillator (AED) Training through the American Red Cross. The intent of this training was to help ensure that if there ever was an emergency situation or a colleague was in crisis, we would have colleagues there to assist.
First Aid, CRP and AED Training through the American Red Cross addresses three critical issues: Airway, (making sure that the person can breathe), blood (ensuring someone is not going to bleed to death), and cardio (making sure a person's heart is beating). Beyond that, first aid is about making sure no more damage is done and making the victim as comfortable as possible. It may be as simple as putting alcohol and a bandage on a scrape, immobilizing bones so surrounding tissue isn't damaged, or be as intense as restoring breathing and heartbeat. First aid can also be psychological, providing support and guidance to people who are so traumatized that they are not functional enough to make safe decisions.
Congratulations to Becki Dilworth, Julie Biesiada, Kate Kunert, Laurie Halvorsen, Lexi Holtzer, Nik Friedman TeBockhorst, Tom Whittaker, and Troy Guerra, who all passed the training and are now American Red Cross Adult First Aid/CPR/AED certified for the next two years. Additional thanks to each for giving their time to make BlueModus a bit safer to work.
To find First Aid, CPR and AED training in your area, visit the American Red Cross website.