BlueModus News
Jun 25, 2019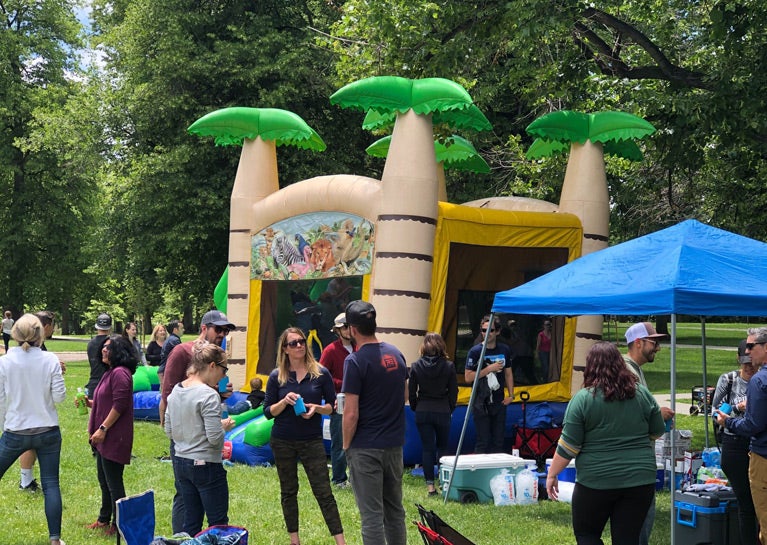 This past Saturday, our Colorado-based colleagues and their families gathered to enjoy some time together outside of the office at our annual BlueModus summer picnic. This year's gathering was held at Denver's Cheeseman Park, where despite an initially rainy-looking forecast, the weather fortunately cooperated so that everyone could have some great park time together outside.
Highlights of this year's get-together included giant inflatable balls (fun for adults and kids alike!), a bounce house, lawn games, and a Steuben's Food Truck to provide a variety of delicious food. The entire team was excited to be able to relax and socialize outside of their usual office setting. As a special bonus, the event took place the same day as the birthday of our Chief Operating Officer, Tom Whittaker, so everyone got to enjoy some birthday treats as well.
"We had a fantastic time at the company picnic this year! The food truck was great, the park was the perfect location, the activities were so much fun, plus my son had a blast in the large gerbil balls," shares Julie Biesiada, Accounting & Contracts Manager at BlueModus. "But really the highlight of picnic was the company. My colleagues are such a welcoming, interesting, fun group of people, I always enjoy the time spent with them at these events."
After this successful outing, the entire team is already looking forward to next summer's gathering! To see pictures, check out this photo album on Facebook.