BlueModus News
Jul 19, 2021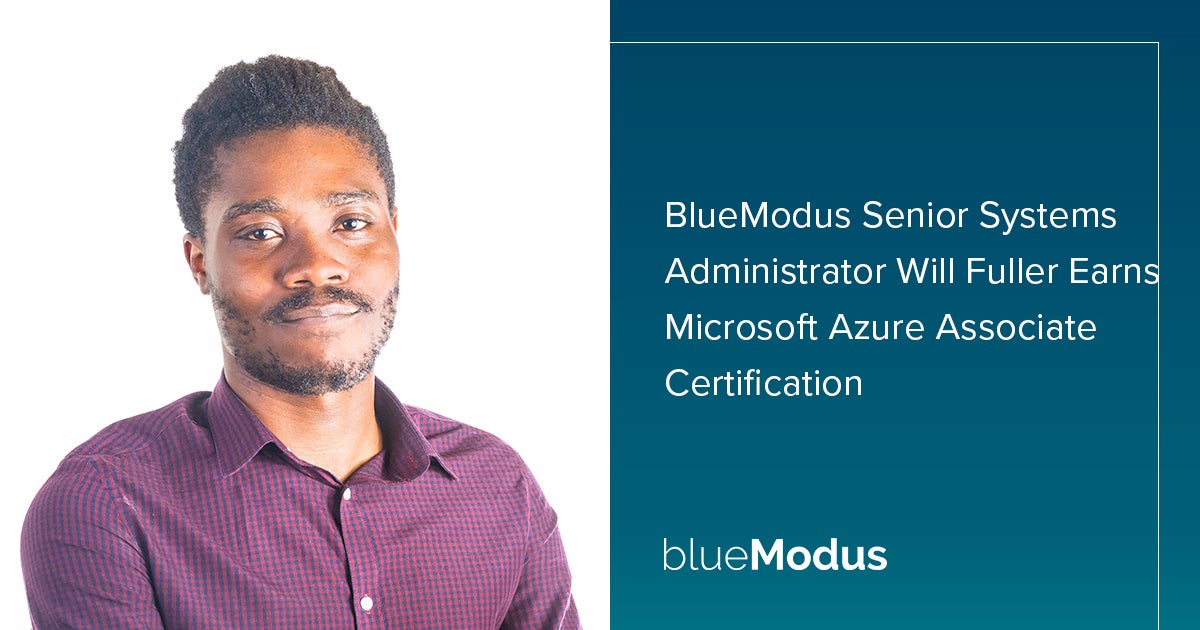 Congratulations to BlueModus Senior Systems Administrator Will Fuller, who recently earned his Microsoft Azure Administrator certification. Technologists achieving this certification must demonstrate subject matter expertise in implementing, managing, and monitoring an organization's Microsoft Azure environment. In his role as Senior Systems Administrator, Will assists our Technical Team and our clients' IT Teams with implementing, managing, and monitoring identity, governance, storage, compute, and virtual networks in their cloud environments.
"This certification is one of many to be acquired but a big step in the direction of solidifying our Azure knowledge and expertise here at Bluemodus. Azure is always growing, and I am happy with this experience. I can provide the best solutions to our clients every day," says Will Fuller.
Microsoft Azure Administrator certification requires at least six months of hands-on experience administering Azure, along with a strong understanding of core Azure services, Azure workloads, security, and governance. In addition, experience using PowerShell, Azure CLI, Azure portal, and Azure Resource Manager templates is necessary.
"This certification demonstrates Wills continued commitment to grow himself professionally and ensure he is up-to-date on Microsoft's best practices for Azure. This also provides our customers peace of mind that at BlueModus, we have the experts they need to help manage their websites, webstores, intranets, and web applications," says BlueModus' CTO Dave Conder.
Without a stable and reliable infrastructure, the most innovative web projects mean nothing. Therefore, BlueModus starts every engagement with a deep understanding of our clients' hosting environments, associated DevOps practices, and security, compliance, and performance requirements. Visit our Infrastructure and DevOps page to learn more about the services we offer on cloud hosting support, automated builds, testing, releases, and security.