BlueModus News
Sep 24, 2021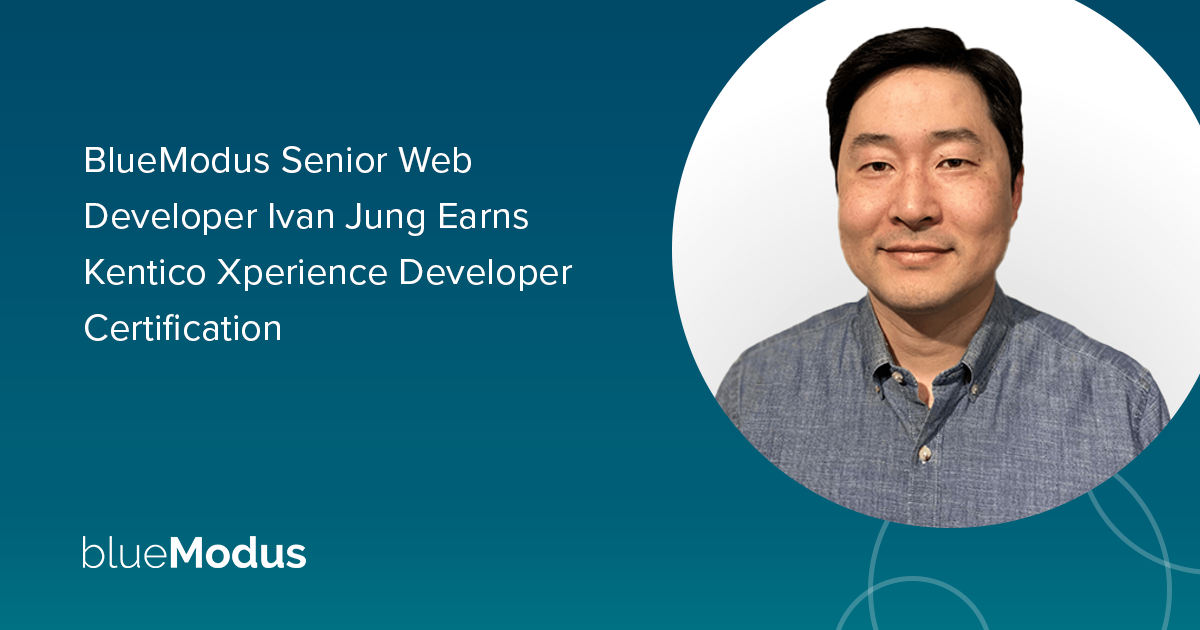 We praise BlueModus Senior Web Developer Ivan Jung on his new Kentico Xperience Developer accreditation achievement. This is Ivan's second Kentico Xperience certification, having previously earned Marketer certification in May 2021. Xperience is a part of Kentico Software Digital Experience Platform, combining content management, digital marketing, and commerce tools within a .NET MVC solution for powering websites, intranets, and webstores.
"Ivan has proven to be a very valuable and impactful addition to our technical team; with a new set of tools in his arsenal, we are looking forward to his contributions and mentorship on our Kentico Xperience 13 projects," notes BlueModus Development Director Sandro Jankovic.
As the #1 Kentico Xperience Solution Partner globally, we are immensely proud of our number of Kentico Xperience certified professionals at BlueModus. With Ivan's recent certification, we now have 44 certified developers and 66 certified marketers on staff - more than any other Kentico Xperience Implementation Partner.
There are 50 questions in the Kentico Xperience Certified Developer Exam, which must be answered within 90 minutes. The test is one secure, online exam. For Xperience certification, a technologist must demonstrate knowledge and practical experience with the product. The exam focuses on topics and skills such as the application's data structure and storage, selecting the appropriate development model and approach, mapping project requirements to Xperience features, presenting data using the API, setting up the development environment for teams, customizing out-of-the-box features, optimizing the application's performance, troubleshooting and debugging the application, deploying the solution to different runtime environments, and maintaining the application through its lifecycle.
"The Kentico Xperience Training program (and the exam itself) provided insight into what Kentico is capable of and how to implement those capabilities. I feel that I've really gained a whole new set of tools from being able to go through the training program and then immediately apply those lessons in real-world scenarios," says Ivan.
Would you like to know more about BlueModus' experience building client websites and intranets using Kentico Xperience? Check out our Kentico Xperience Partner webpage or some of our Case Studies, as we are incredibly proud of our client projects.