BlueModus News
Mar 01, 2023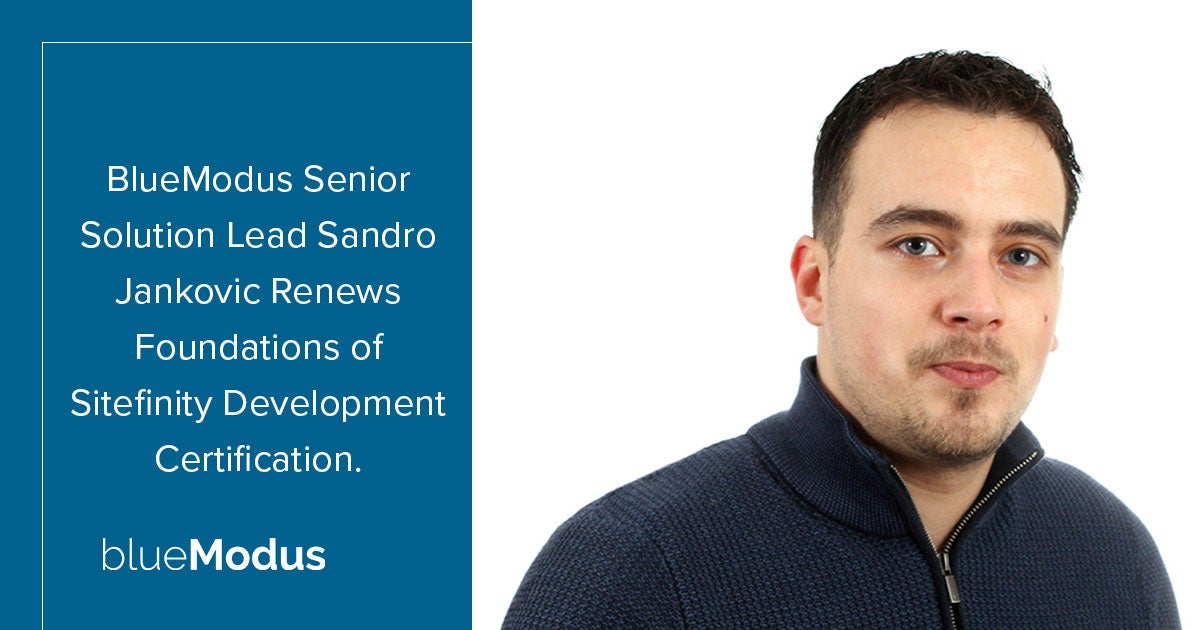 Congratulations to BlueModus Senior Solution Lead Sandro Jankovic, who recently renewed his Foundations of Sitefinity Development Certification. Progress Sitefinity is a content-driven digital experience (DXP) and web content management platform for multichannel user experiences.
"With the new three-tier architecture and a plethora of new and improved features, a lot has changed in the Sitefinity world since the last time I went through the certification process. The Sitefinity training program was comprehensive and a great way to catch up with the platform changes -- I'm looking forward to putting this new knowledge to use in the real world," says Sandro.
The Foundations of Sitefinity Development Certification is awarded to developers looking to demonstrate their Sitefinity knowledge. The certification exam consists of 100 multiple-choice questions, must be completed in 165 minutes without pausing, and requires a grade of 75% or higher to pass. The exam measures a technologist's ability to understand how they can design, style, develop, optimize, and troubleshoot Sitefinity applications. A two-year 'Certified Sitefinity Developer' badge is issued to all who pass the exam.
"Congratulations to Sandro for adding another certification to his quiver! One thing that I love about Sandro is that he is never content with his skill set as-is. He's always looking for opportunities to learn something new, and not just at the surface level. I sincerely appreciate the time and energy he put into preparing for this certification, and I have no doubt it will pay off big time for both his team and clients!" notes BlueModus' Development Director, Robert Tyska.
Interested in learning more about BlueModus' experience building client websites on Sitefinity? Visit our Sitefinity partner page or check out some of our Case Studies, as we are incredibly proud of our client projects.