BlueModus News
Jul 19, 2021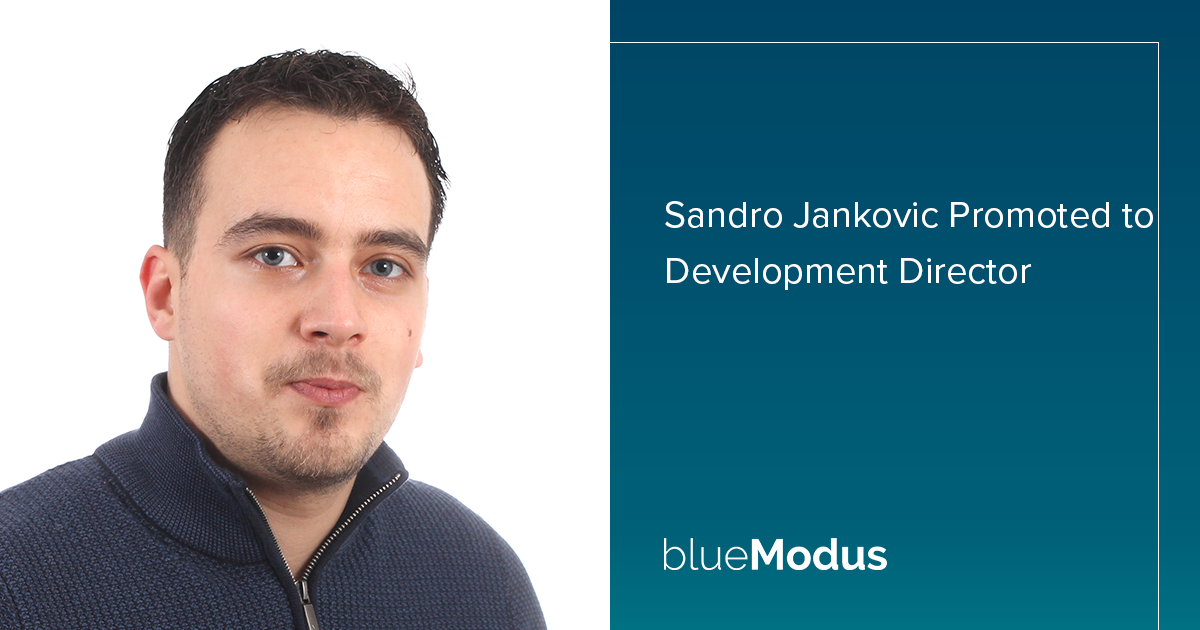 BlueModus is excited to announce the promotion of Sandro Jankovic from Senior Solution Lead to Development Director. Sandro will be leading a technical team working directly with our clients to build and maintain websites, webstores, and intranets leveraging content management systems (CMS), including Kentico, Sitecore, Umbraco, Sitefinity, Akumina, ContentStack, and custom development. His team will consist of Solution Leads, Web Development Leads, Web Developers, UX/UI Developers, and QA Engineers. Sandro's primary focus will be leading and mentoring his agile team and ensuring they continue to meet high-quality standards and exceed client expectations.
"I'm excited. As a Senior Solution Lead, Sandro's dedication to helping customers get the most value out of technology has stood out. He has helped nearly everyone at BlueModus. He's great at mastering new technologies and mentoring the dev team," says BlueModus, Vice President of Technology Mike Wills. "I'm looking forward to seeing his influence grow and affect a larger team."
With nearly twenty years of experience in software development, Sandro's career has been focused on consistently delivering scalable and sustainable solutions to clients. Since joining BlueModus in 2017, Sandro has contributed his talents toward the success of many client projects, including Arthritis Foundation, Calico Cottage, Clif Bar & Company, Citgo Petroleum Corporation, and Vantage Specialty Chemicals – both as Solution Lead and Senior Solution Lead.
"Focusing on client success and serving as a productivity catalyst for our team has always been a major part of my modus operandi. I am incredibly excited about the opportunity to bring my vision, experience, and skill set to the Development Director role and apply it across multiple squads and projects," shared Sandro.
Congratulations to Sandro on his promotion. The entire team is excited to have you in this new role.