BlueModus News
May 26, 2023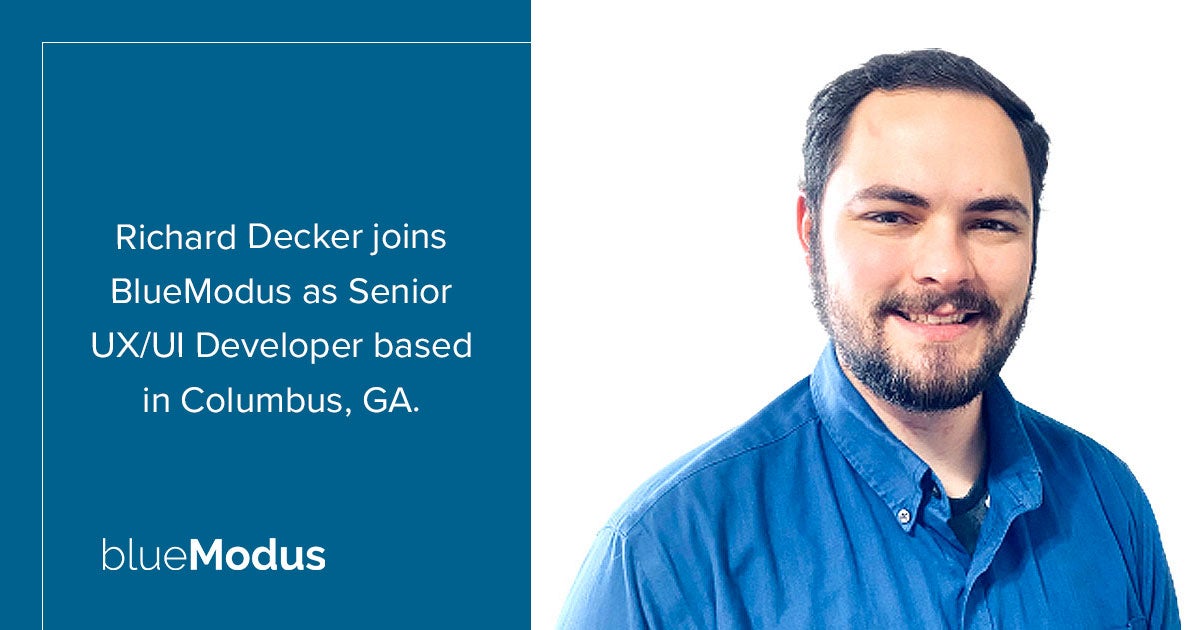 We are excited to announce the expansion of our UX/UI Team. Richard Decker has joined us as a Senior UX/UI Developer based in Georgia. Richard has been a front-end web developer for over five years. He started as a contractor after getting stationed in a 'black hole' base while serving in the United States Air Force. After separating from the military, Richard went into web development full-time and has loved it ever since. At BlueModus, Richard will work directly on several project teams providing front-end support on client projects.
"What was most interesting about BlueModus during my initial research and interviews was the workplace culture I picked up on in talking with everyone," shares Richard. "I am a big proponent of work-life balance and believe that if you can work from home, there's no reason not to, so when I learned about the great culture of work and life separation, and their plans to stay remote, I knew pretty quickly that BlueModus sounded like a company that respected its employees, and that's a company that I could get behind."
Since 2022 Richard has been a Front End Web Developer at the healthcare marketing agency FCB Health New York, where he focused on developing drug websites for clients. He was responsible for developing and implementing the user interface of the websites, ensuring that they were attractive, functional, and compliant with the relevant regulations and standards. From 2021 to 2022, Richard was a Front End Web Developer at the transportation company J.B. Hunt, where he was responsible for developing new user-facing features, creating rich web applications, determining the structure and design of web pages, building reusable code, optimizing page loading times, and using a variety of markup languages to create web pages, apps, and tools.
"Richard brings with him to BlueModus a terrific amount of experience within the UI/UX development arena. His background will allow him to provide incredible value to our clients from day one. The whole team is excited to have him on board!" says Aaron Brosey, BlueModus Development Director.
We are excited for Richard to bring his experience and strong UX/UI skills to BlueModus.