BlueModus News
Feb 26, 2020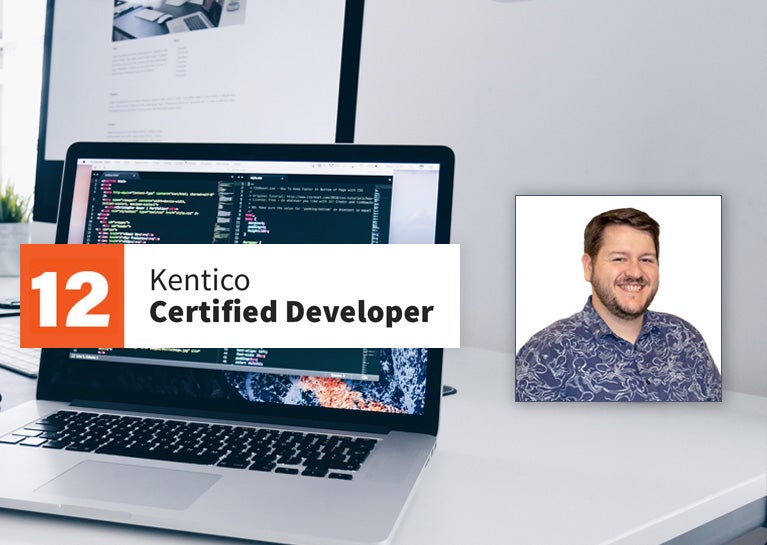 Congratulations to Matt Cunningham, Senior Web Developer at BlueModus, who recently earned his Kentico Developer Certification by passing the Kentico 12 Certified Developer Exam. Developers like Matt must not only have practical experience using Kentico, but also demonstrate knowledge of the platform's features and functionality to pass this test.
"Earning certification is a visible affirmation that I am no stranger to Kentico's best practices," says Matt. "It increases my credibility in regard to development decisions, and grants me a fresh measure of confidence in my work."
The Kentico 12 Certified Developer Exam is a secure, online exam consisting of 50 questions to be completed in under 90 minutes. The test focuses on the design, maintenance, and development of Kentico websites, ASP.NET development, creating data-driven web user interfaces, and knowledge of SQL.
"Matt's certification is a testament to his excellence as a developer and his significant Kentico experience," shares Mike Wills, BlueModus Director of Development. "This will help assure customers of the quality and reliability he will bring to their projects. Congratulations to Matt!"
BlueModus, the #1 global Kentico Solution Partner, remains committed to ensuring that a majority of its colleagues are certified on the platform. With the inclusion of Matt, BlueModus currently boasts 50 Kentico Certified Developers and 40 Kentico Certified Marketers. BlueModus also maintains the status of Kentico Quality Expert.
To learn more about Matt, please visit his website profile. Interested in becoming Kentico certified? Visit Kentico's Certified Developer Exam page for more information.