BlueModus News
Jun 06, 2023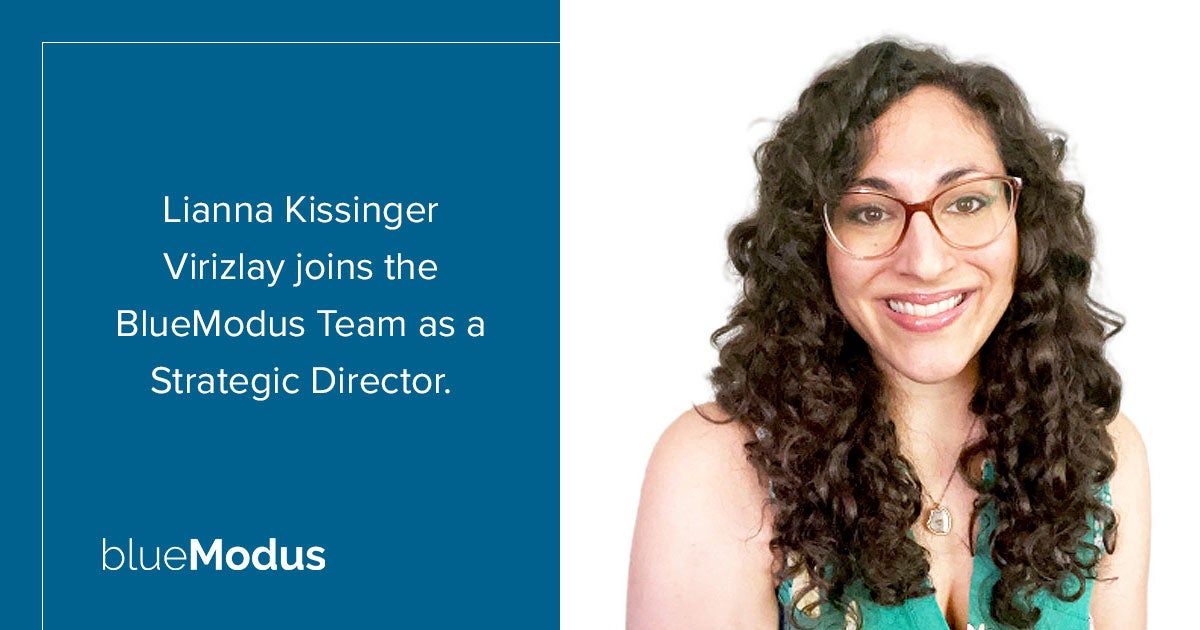 We are excited to welcome Phoenix, Arizona-based Lianna Kissinger Virizlay to BlueModus as a Strategic Director. Lianna has led enterprise content strategy and client service for over ten years in various agency and consulting environments, helping local and global B2B, B2C, and corporate brands better reach their target audiences online. She brings deep expertise in web content strategy and governance for an omnichannel environment and a passion for matching potential solutions to specific brand goals. Lianna's collaborative stakeholder and solution management approach has shaped and delivered impactful digital experiences across sectors, including beauty, corporate communications, e-commerce, education, finance, life sciences, and technology. At BlueModus, Lianna will work directly with clients as a product owner, strategic consultant, and account manager, helping to ensure BlueModus is proactively meeting each client's business objectives.
"I am excited to welcome Lianna to our team. Her skill set and experience align perfectly with the Strategic Director role's complex needs, challenges, and demands. She is passionate about finding strategic solutions and I am confident she will make a meaningful impact on the team and for our clients. We are fortunate to have her join us," says Katie Tabler, BlueModus' Managing Director.
Since 2019, Lianna has been working at the advertising agency Investis Digital. She has held several roles, including Director of Content, Strategy, and Design, Director of Performance Marketing for the UK and ROW, Group Account Director, and most recently, Vice President of Experience Design. Her focus at Investis was to drive success, satisfaction, and growth for crucial accounts and delivery teams. In addition, from 2016 to 2019, Lianna built and led the Editorial Content division at the advertising agency PMX Agency.
"BlueModus has that special blend of a well-defined, solutions-focused offering, an open and honest culture, and a group of smart, collaborative team members that can bring that offer and culture to life," shares Lianna. "I've always loved a quote attributed to cultural anthropologist Margaret Mead: 'Never doubt that a small group of thoughtful, committed citizens can change the world. Indeed, it's the only thing that ever has.' To me, BlueModus is a group of thoughtful, committed citizens who, together, can change the way the world sees and interacts with our clients online. I'm excited to be a part of it."