BlueModus News
Jul 15, 2022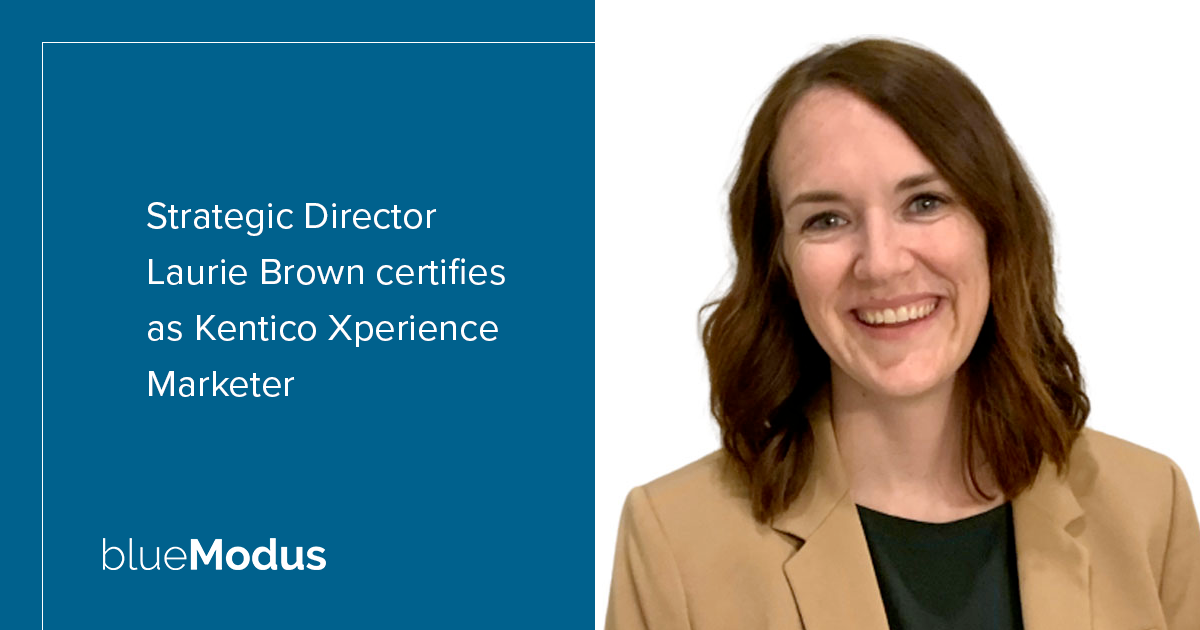 We are pleased to announce that BlueModus' Strategic Director, Laurie Brown, has recently become a Kentico Xperience Certified Marketer. By mastering the Xperience Certified Marketer exam, individuals can demonstrate their comprehensive understanding and in-depth knowledge of defining and running practical marketing activities using Xperience's digital marketing tools. This exam tests your ability to select, define, run, and maintain a successful digital marketing campaign. Besides Xperience's features, the exam covers various digital marketing topics, including content marketing, pay-per-click advertising, email marketing, and search engine optimization. The exam is a 90-minute online test that includes 50 multiple-choice questions.
"As a Strategic Director at BlueModus, I thrive on bringing smart solutions to clients. The Kentico Xperience Marketer Certification enhanced my ability to align strategic vision to the technical solutions in a way that adds long-term value to the client," says Laurie.
Part of the Kentico Software product suite, Kentico Xperience's content management, digital marketing, and commerce tools are an integrated solution for creating engaging digital experiences across multiple channels, on-premises, or in the cloud. It is designed exclusively for marketers. The platform delivers and optimizes real-time customer-centric marketing campaigns across multiple channels through personalization, marketing automation, contact management, lead scoring, email marketing, A/B, multivariant testing, and web analytics. Each year, BlueModus builds hundreds of websites, intranets, and webstores for clients using Kentico Xperience.
"As a web agency, it's vital that our entire team remains fluent and certified in Kentico Xperience. Knowing how to best use this powerful suite of tools allows us to serve our clients best and continue to deliver cutting-edge online marketing expertise. By attaining this certification, Laurie is better equipped to guide and provide value to our clients," says BlueModus' Managing Director Katie Tabler.
As the #1 ranked Kentico Solution Partner worldwide, BlueModus works hard to give our team members the time and support to become certified on all Kentico Software products, which benefits our clients and their projects tremendously. As a result, BlueModus now has 78 certified Xperience Marketers and 50 certified Xperience Developers -- more than any other Kentico Solution Partner. Visit our website to learn more about our commitment to Kentico certifications and client projects implemented on Kentico.