BlueModus News
Feb 11, 2020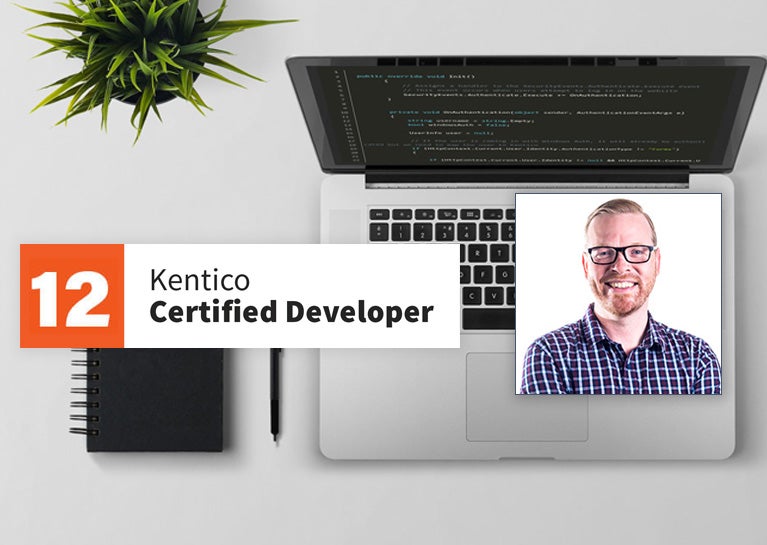 Congratulations to BlueModus Director of Development Josh Sherman, on earning his Kentico Developer Certification by passing the Kentico 12 Certified Developer Exam. Earning this certification helps to validate a developer's technical skills and expertise using the latest Kentico and ASP.NET tools and technologies.
In order to pass the Kentico 12 Certified Developer Exam, Josh showed both his deep knowledge of Kentico's features and functionality, as well as demonstrated his practical experience in using the platform. The test, a secure, online exam consisting of 50 questions to be completed within 90 minutes, focuses on high-level concepts in developing, designing, and maintaining Kentico websites, as well as knowledge of ASP.NET development, the MS SQL database management language, and the creation of data-driven web user interfaces.
"The exam for the Kentico 12 Developer Certification is quite difficult and requires many hours of working on solutions within the framework in addition to study and knowledge," says Josh. "I hope that my acquisition of this certification is further evidence of BlueModus' commitment to ensuring our colleagues are experts in building the best possible solutions for our partners."
Jesse Hormachea, BlueModus Vice President of Delivery adds, "As a Director of Development, Josh has led our Kentico development teams in implementing many successful Kentico projects. Now that he has obtained the Kentico 12 EMS Developer Certification, he is in an even better position to lead both his teams and our clients, as well as help drive our Kentico development practice forward. Congratulations, Josh!"
As the top global Kentico Solution Partner, BlueModus remains proud that a majority of its colleagues are Kentico-certified. With the inclusion of Josh, BlueModus currently has 50 Kentico Certified Developers, as well as 40 Kentico Certified Marketers on staff. If you are interested in learning how to become Kentico certified, visit the Kentico Certified Developer Exam page.
To learn more about Josh's depth of experience, you can review his profile on the BlueModus website.