BlueModus News
Dec 07, 2022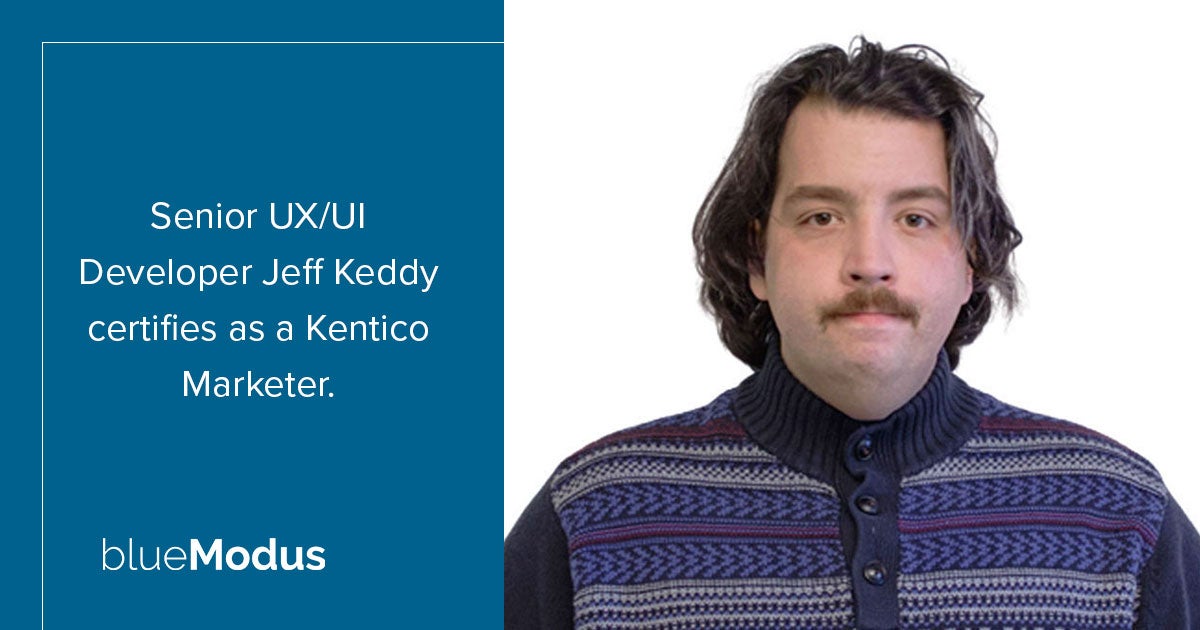 Congratulations to our colleague, Jeff Keddy, who recently passed his Kentico Marketer certification exam. Jeff is a Senior UX/UI Developer and works on one of our project teams, helping build new and enhanced existing websites for our clients. Since many of our clients utilize Kentico as the content management system (CMS) to power their website and digital marketing, Jeff will be better equipped to support and serve our clients. We appreciate Jeff's efforts to expand his knowledge and complete this certification.
"I'm excited to see Jeff's understanding of the Kentico marketing tools expanded. I know he will be able to utilize this and his other talents to provide excellent options to the many marketing teams we work with daily," says BlueModus' Development Director, Jordan Walters.
Kentico is a .NET MVC solution that combines content management, digital marketing, and commerce tools to power websites, intranets, and webstores. There are 50 questions on the Kentico Certified Marketer Exam, which must be completed within 90 minutes. As part of the exam, candidates are asked to demonstrate a comprehensive understanding of digital marketing topics, such as content marketing, pay-per-click advertising, email marketing, and search engine optimization, in addition to their knowledge of Kentico's features and functionality.
"As a developer, I believe the data is the most powerful asset available to us. I hope to utilize Kentico's tools to enhance our understanding of how our product performs and contribute to a better web experience for our clients," says Jeff.
BlueModus is the #1 Kentico Implementation Partner in the world. Including Jeff, we employ 86 Kentico Certified Marketers and 51 Kentico Certified Developers - the most of any Kentico Partner. It is an honor to have this many certified Kentico professionals on our team. See some of our Case Studies or visit our Kentico Partner webpage to learn more about our experience building client websites on Kentico. We love to talk about Kentico, so contact us at curious@bluemodus.com or 303.759.2100.