BlueModus News
May 27, 2021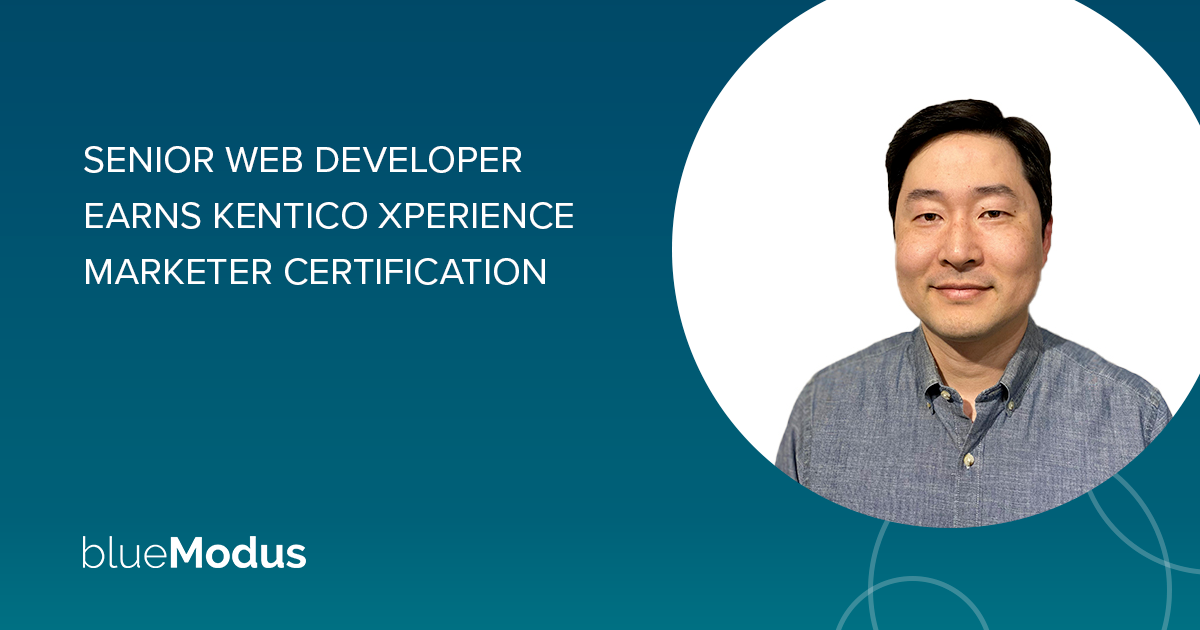 Congratulations to BlueModus Senior Web Developer Ivan Jung, who recently passed Kentico Xperience's Marketer certification exam. Kentico Xperience is Kentico Software's digital experience platform, which provides content management, digital marketing, and commerce tools in a single .NET MCV solution for powering websites, intranets, and webstores.
"The Kentico Marketer training and certification course have helped me get a more comprehensive view of Kentico's capabilities. I'm excited to use the things I have learned to enhance our clients' projects," says Ivan.
The Xperience Certified Marketer exam helps individuals demonstrate their comprehensive understanding and in-depth expertise in defining and running practical marketing activities using Xperience's digital marketing features. The exam shows that you can select, define, run, and maintain successful digital marketing projects. In addition to the Xperience's features, the exam also covers a wide range of digital marketing in general, including – content marketing, pay-per-click advertising, email marketing, and search engine optimization. The exam itself is a 90-minute online secure test that consists of 50 multiple-choice questions.
"It takes a lot of extra effort, studying, and experience to gain the Kentico Xperience Marketer certification," notes BlueModus Director of Innovation Josh Sherman. "Ivan's accomplishment is proof that he is committed to being an expert in the platforms that our partners use to reach their goals. Congratulations, Ivan!"
BlueModus, as the #1 Kentico Xperience Solution Partner worldwide, remains very proud of the number of certified Kentico professionals on the team. With the inclusion of Ivan and this re-certification, we employ 59 Kentico Xperience Certified Marketers and 41 Kentico Xperience Certified Developers– the most of any Kentico Xperience Solution Partner.
Interested in learning more about BlueModus' experience building client websites and intranets on Kentico Xperience? Visit our Kentico Xperience Partner webpage or check out some of our Case Studies, as we are incredibly proud of our client projects.