BlueModus News
Dec 15, 2021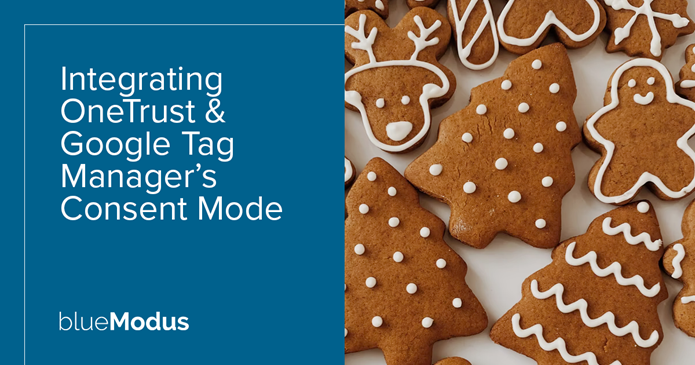 Balancing the cookie compliance requirements of regulations like GDPR and the marketing data needs of your organization can quickly add a confusing and often chaotic layer to an organization's cookie compliances policies. Solutions like OneTrust vastly ease the process, but for organizations with an average or complex Google Tag Manager implementation, the process of segmenting your non-compliant tags in Google Tag Manager was non-standard, and many organizations lacking an elegant approach blocked all scripts regardless of compliance requirements.
Luckily, in September of 2020, Google launched the beta of Consent Mode for their Marketing Platform (Google Ads, Google Tag Manager). With the launch of Consent Mode within Google Tag Manager, there's finally a standardized route for dynamically integrating cookie compliance solutions like OneTrust and your Google Tag Manager instance.
Today, we'll be looking specifically at how OneTrust users can integrate their cookie compliance policy using Consent Mode in Google Tag Manager.
How to Implement OneTrust using Google Tag Manager Consent Mode
When using Google Tag Manager alongside OneTrust, Google's Consent Mode allows you to adjust how your Google tags behave based on the consent provided by users through OneTrust Cookie Compliance. Using Consent Mode can indicate whether consent has been granted (when using the OneTrust integration) for only Analytics and Advertising cookies (Security, Personalization, or Functionality cookies aren't supported currently) and will dynamically adapt by only utilizing cookies for the specified categories.
For reference, the statuses that Google Consent Mode supports are:
| | |
| --- | --- |
| Consent Type | Description |
| ad_storage | Enables storage (such as cookies) related to advertising (Supported by OneTrust) |
| analytics_storage | Enables storage (such as cookies) related to analytics, e.g., visit duration (Supported by OneTrust) |
| functionality_storage | Enables storage that supports the functionality of the website or app, e.g., language settings |
| personalization_storage | Enables storage related to personalization, e.g., video recommendations |
| security_storage | Enables storage related to security such as authentication functionality, fraud prevention, and other user protection |
Configuring OneTrust Cookie Compliance with Google Cookie Consent
Note: This is not intended as a comprehensive guide but an overview. As well, For a full help article on this topic,
Contact OneTrust Customer Support (or your Account Rep) to enable Google Consent Mode support (Google Consent Mode access in OneTrust is currently only available by request)
Start by configuring Cookie Consent with your OneTrust implementation by referencing the Using Google Consent Mode to Adjust Tag Behavior Based on Consent guide.
Configuring Consent Mode in Google Tag Manager
The below is not intended to be comprehensive. Check out the full help article configuring Consent Mode in Google Tag Manager.
To begin sorting which Tags within your Google Tag Manager account are configured for consent, you'll want to enable Consent Overview in your GTM container:
Within Google Tag Manager
Click Admin
Select Container Settings.
Under Additional Settings
Check Enable consent overview.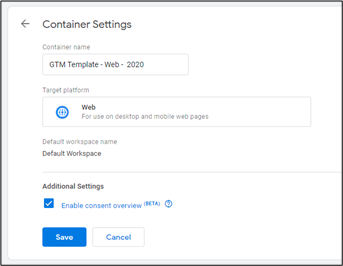 These steps will group all tags within your container into the following two categories:
Consent Not Configured:

Lists tags where no consent action has been taken. These tags are in the 'not set' state.

Consent Configured:

List of tags where Additional Consent Checks has been set to either "No additional consent required" or "Require additional consent for tag to fire."
Editing your Tags Consent Status
Once enabled, you can view your tag Content Overview under the Tags category in the left navigation and click the Consent Overview (Shield) icon.
This step will showcase the Consent Configuration pane showing all your tags and their category.
To adjust each tag individually (or in bulk):
Select the checkboxes to the left of each tag to select which tag you would like to update.
When one or more tags are selected, click the Edit Consent Settings icon.
Modify settings for Additional Consent Checks by selecting either:

Not set:

Default. No additional consent checks are performed by this tag.

No additional consent required:

Select this option to indicate that your tag does not need to check for additional consent to fire. You may choose to use this option to distinguish tags that need no additional consent outside of their built-in consent checks for any tags that you have not yet reviewed.

Require additional consent for tag to fire:

This tag will only fire if the status of all specified consent types is 'granted' when the tag is triggered. The + Add required consent button will appear if you select this option. Use this button to add additional consent types. Tag Manager supports the consent types listed in the table below, and you can add your custom consent types based on what is supported by your consent management platform.

When Requiring additional consent for tag to fire, OneTrust currently supports the status of ad_storage (Performance in OneTrust by default) and analytics_storage (Targeting in OneTrust by default) when using Consent Mode.)

Once selected and adjusted, click Save and test or publish your container compared to your settings in OneTrust.