BlueModus News
Sep 09, 2021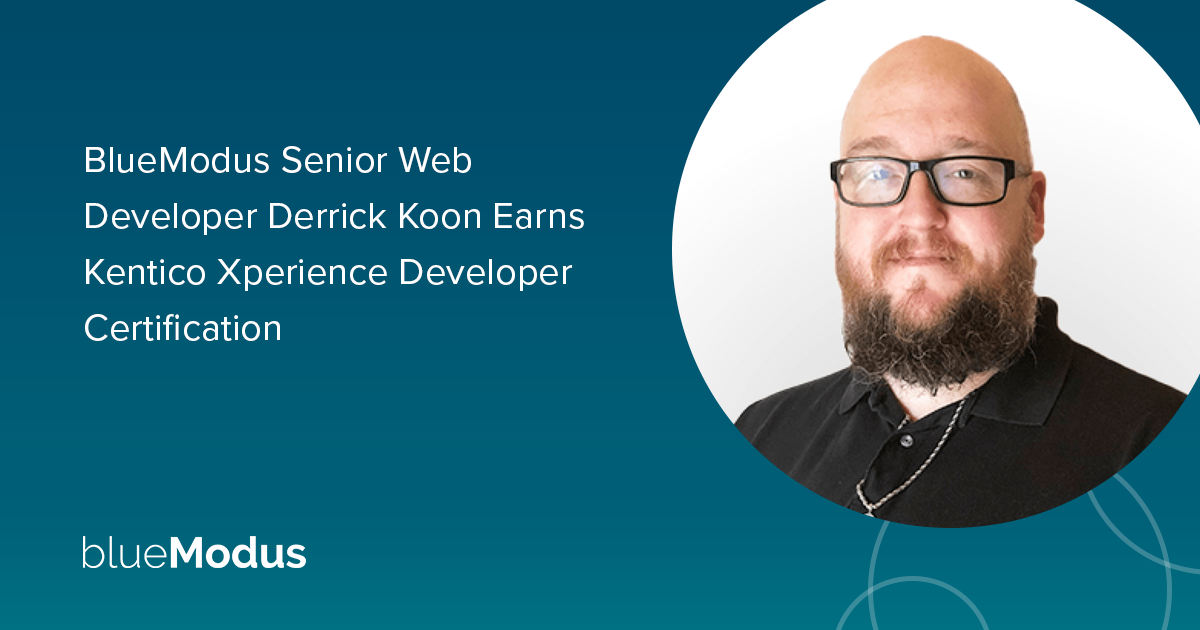 We congratulate BlueModus Senior Web Developer Derrick Koon on his recent Kentico Xperience Developer certification success. A Kentico Software Digital Experience Platform, Xperience combines content management, digital marketing, and commerce tools within a .NET MVC solution for powering websites, intranets, and webstores.
"As someone who has worked in various platforms over the years, becoming certified in Kentico Xperience is a big milestone for me as a developer. The training was in-depth and helped me better understand the power that Kentico brings to the table when it comes to content management. I am very proud to be able to leverage that knowledge to help our clients, " says Derrick.
There are 50 questions in the Kentico Xperience Certified Developer Exam, which must be answered within 90 minutes. The test is one secure, online exam. For Xperience certification, a technologist must demonstrate knowledge and practical experience with the product. The exam focuses on topics and skills such as the application's data structure and storage, selecting the appropriate development model and approach, mapping project requirements to Xperience features, presenting data using the API, setting up the development environment for teams, customizing out-of-the-box features, optimizing the application's performance, troubleshooting and debugging the application, deploying the solution to different runtime environments, and maintaining the application through its lifecycle.
"Completing the Kentico Xperience developer exam is a challenge. It is not an easy test; you have to know the platform. Derrick has shown this and is ready to put the knowledge into practice solving problems for our clients," notes BlueModus Development Director Nick Bushnell.
We remain immensely proud at BlueModus of the number of certified Kentico professionals on our team as the #1 Kentico Xperience Solution Partner worldwide. As a result of Derrick's addition and this certification, Kentico now employs 43 Kentico Xperience Certified Developers and 64 Kentico Xperience Certified Marketers - more than any other Kentico Xperience Solution Partner.
Would you like to know more about BlueModus' experience building client websites and intranets using Kentico Xperience? Check out our Kentico Xperience Partner webpage or some of our Case Studies, as we are incredibly proud of our client projects.