BlueModus News
Aug 03, 2020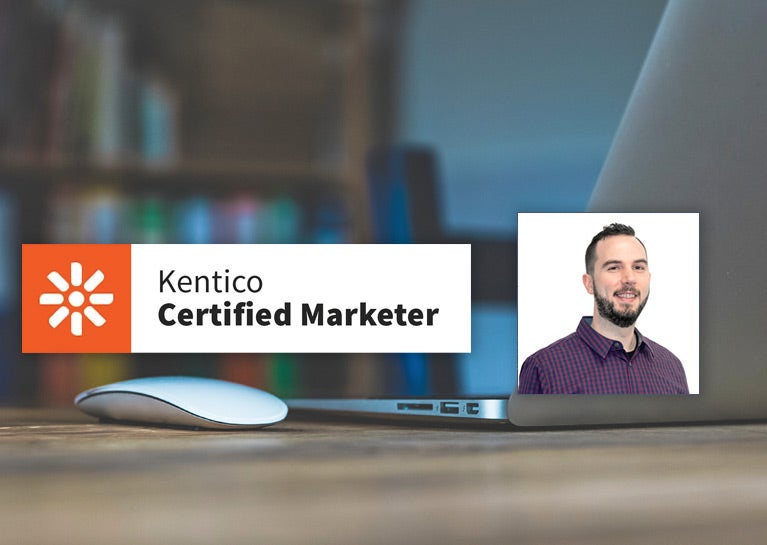 Congratulations to BlueModus Solution Lead David Stevens, on earning his fourth Kentico certification in the past 12-months. In June 2020, David passed his Kentico Xperience Certified Marketer Exam, earning him the credentials of Kentico Xperience Certified Marketer. To achieve accreditation as a Certified Marketer, an individual must demonstrate practical experience using the product as well as deep knowledge of the platform's features and functionality.
" Learning is a lifelong process in the technology field, and the Kentico Xperience Marketer certification helped solidify the knowledge and practical skills I use on a daily basis. This certification closed any educational or theoretical gaps in my knowledge of Kentico and verified that I'm updated with the latest processes and best practices." shares David.
A 90-minute online secure test, the Kentico Xperience 12 Certified Marketer Exam consists of 50 multiple choice questions that focus on a multitude of topics. To succeed, test takers need to understand email marketing, search engine optimization, pay-per-click, contact segmentation (such as contact groups, personas, and scoring), contact management and activity tracking, content optimization using both A/B and MVT testing, content marketing, conversions, campaigns, marketing automation, content personalization, and web analytics.
"In completing this certification David has shown to the team at BlueModus that he is more than comfortable with Kentico's products. The skills he learned will allow him to design systems involving tools like email campaigns, personalization, and marketing automation," notes Nick Bushnell, BlueModus Director of Development, "More and more our clients are requesting these features as part of a web site build or redesign project. This demand, combined with our highly qualified staff, we can deliver top notch solutions to these organizations."
BlueModus, as the #1 global Kentico Solution Partner, consistently prioritizes having the majority of its colleagues certified on the platform. At present there are 50 Kentico Xperience Certified Marketers and 49 Kentico Xperience Certified Developers on the BlueModus team.
To learn more about how to become Kentico Xperience Marketer Certified, visit Kentico's training page. Or to find out about David's experience, please see his profile on the BlueModus website.