BlueModus News
Jul 29, 2019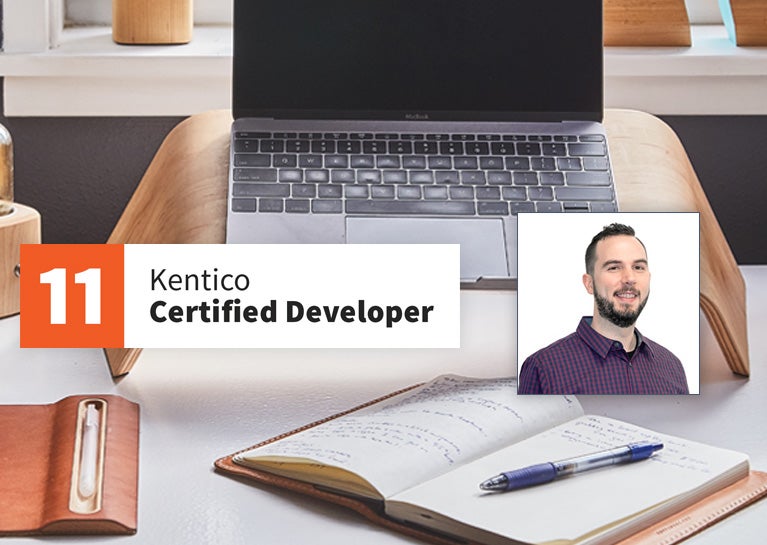 Congratulations to BlueModus Solution Lead David Stevens, who has recently passed his Kentico 11 Certified Developer Exam. With the addition of David, BlueModus currently boasts 37 Kentico Certified Developers, as well as 18 Kentico Certified Marketers.
"David has gotten up to speed on Kentico EMS very quickly and is making a big impact for BlueModus and our clients," says Nick Bushnell, Director of Development. "Kentico is a robust platform and gaining enough knowledge to pass the certification test is challenging work. We are all proud of David for this accomplishment."
To pass the Kentico 11 Certified Developer Exam, David needed to show not only knowledge of Kentico's features and functionality, but also demonstrate his practical experience using the product. It is a secure, online exam consisting of 50 questions that must be completed within 90 minutes. From a high-level perspective, the test focuses on the design, development, and maintenance of Kentico websites, ASP.NET development, using the MS SQL database management language, and knowledge of data-driven web user interface creation.
"Over the past three months, I progressed from knowing virtually nothing about Kentico to the ability to launch a full-featured site and improve functionality on a daily basis. Taking the developer courses and studying best practices for the exam were essential to making that happen," shares David. "Since passing the exam, I'm better equipped to help our clients with the wealth of features that Kentico offers — features that help them launch quickly, operate strategically, and execute successfully."
BlueModus, as the #1 Kentico Solution Partner in the world, remains proud that the majority of its colleagues are certified on the Kentico platform. Interested in becoming Kentico certified? Visit the Kentico Certified Developer Exam page to learn more. To find out more about David, you can check out his profile on the BlueModus website.