BlueModus News
Mar 20, 2023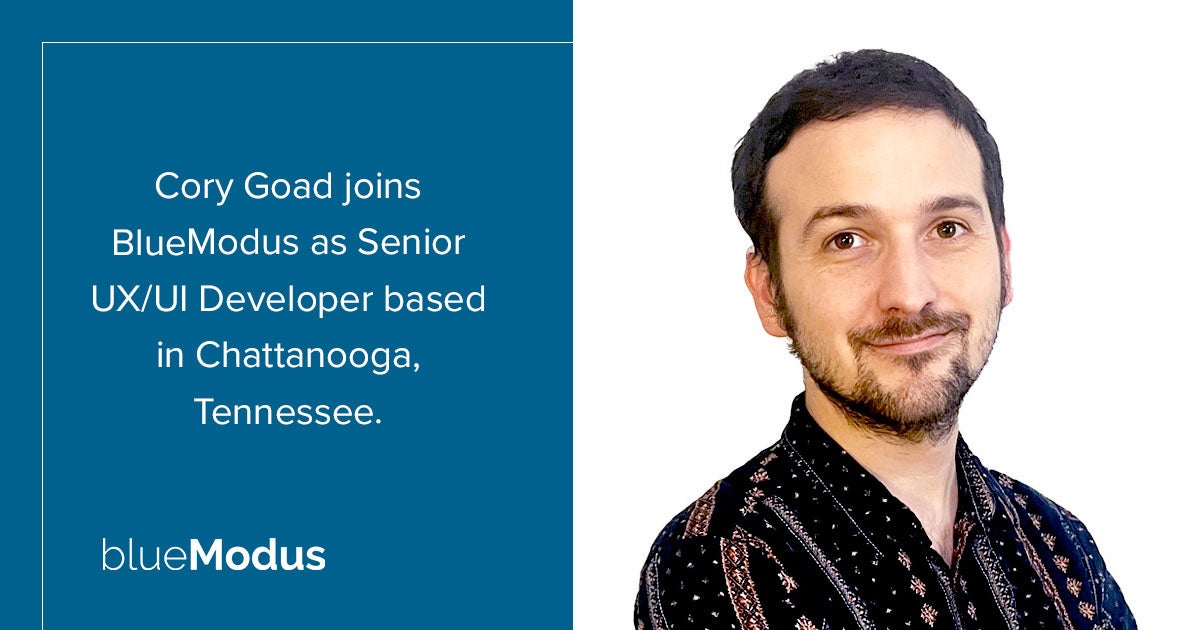 We are excited to announce the expansion of our UX/UI Team. Cory Goad has joined us as a Senior UX/UI Developer based in Tennessee. He began his career leveraging what Cory describes as his "totally-worth-it English/Film" degree to become a graphic designer making basketball courts, instruction manuals, and event posters. After getting into web development and freelancing on small websites, he expanded his career to eventually managing e-commerce websites. At BlueModus, Cory will work directly on several project teams providing front-end support on client projects.
"Throughout the interview process, I appreciated that everyone I met was super willing to jump in and answer questions. There isn't any ego, " shares Cory.
Since 2021 Cory has been a freelance Web Developer designing and developing web fronts for multiple clients. This included helping manage and maintain websites built on content management systems such as graphCMS, WordPress, and Shopify. Before his freelance work, Cory worked at Echelon Fitness from 2019 to 2021. He started as a Web Designer and was promoted to Ecommerce Development Manager. He is particularly proud to have relaunched three sites with improved UX and CRO Strategy shipping and fulfillment capabilities during his tenure at Echelon.
"I'm excited to see what kind of impact Cory will have on our team. His experience and skill set make him a perfect addition to BlueModus, but his passion for development and thoughtful approach to his work will ensure his success. Undoubtedly, he'll be a valued counterpart to our back-end developers and an advocate for our clients. I can't wait to see him in action," says Robert Tyska, BlueModus Development Director.
We are excited for Cory to bring his experience and strong UX/UI skills to BlueModus.