BlueModus News
Nov 24, 2021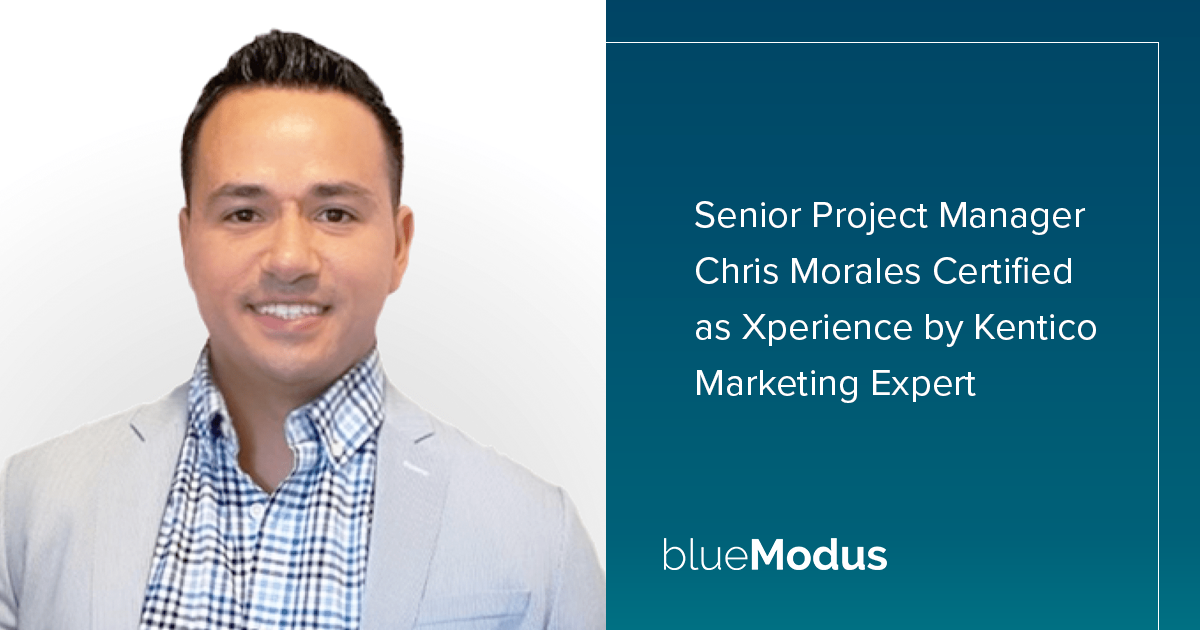 We want to congratulate Chris Morales, BlueModus' Senior Project Manager, who recently passed the Xperience by Kentico Marketer exam. The Xperience by Kentico product is from Kentico Software. They enable businesses to create engaging digital experiences across multiple channels with just one solution that includes marketing, commerce, and content management tools. Xperience by Kentico is designed for marketers. Most of the platform's features focus on delivering and optimizing real-time customer-centric marketing campaigns across multiple channels using personalization, marketing automation, contact management, lead scoring, email marketing, A/B, multivariate testing, and web analytics. Each year, BlueModus implements hundreds of websites, intranets, and webstores for clients using the Xperience by Kentico platform.
"As Kentico is one of the key platforms we use at BlueModus, it is so important to the success of our project managers to have a deeper understanding of its capabilities and limitations. Now that Chris has achieved his certification, he is even more equipped to help guide the BlueModus team and provide more value and thought leadership to our clients," says BlueModus' Project Management Director Katie Tabler.
The Xperience Certified Marketer certification helps individuals demonstrate a comprehensive understanding and in-depth understanding of the digital marketing features of Xperience. This certification shows you're capable of choosing, defining, running, and maintaining successful digital marketing campaigns. In addition to the Xperience's features, the exam covers all aspects of digital marketing, such as content marketing, PPC, email marketing, and SEO. The exam is composed of 50 multiple-choice questions and is administered online in 90 minutes.
"Once I joined BlueModus, I was very excited in gaining the Kentico Xperience Certified Marketer certification. It offers amazing performance, security, and reliability to all users. Previously working with other CMS platforms, Kentico's suite of tools for marketers is by far the best as it allows people of all skill levels to update content easily and navigate the CMS tool," Chris shared.
As the #1 ranked Xperience by Kentico Solution Partner worldwide, BlueModus devotes a great deal of effort and time towards ensuring that our colleagues are adequately trained and certified on Xperience's products and feel that this adds tremendous value to our clients and their projects. The addition of Chris increases the number of BlueModus colleagues who hold Xperience Marketer certifications to 70 and the number of Xperience Developers to 42 - more than any other Xperience by Kentico Solution Partner. By visiting our website, you can learn more about our commitment to Xperience certifications and client projects implemented on Xperience.