BlueModus News
Jul 19, 2021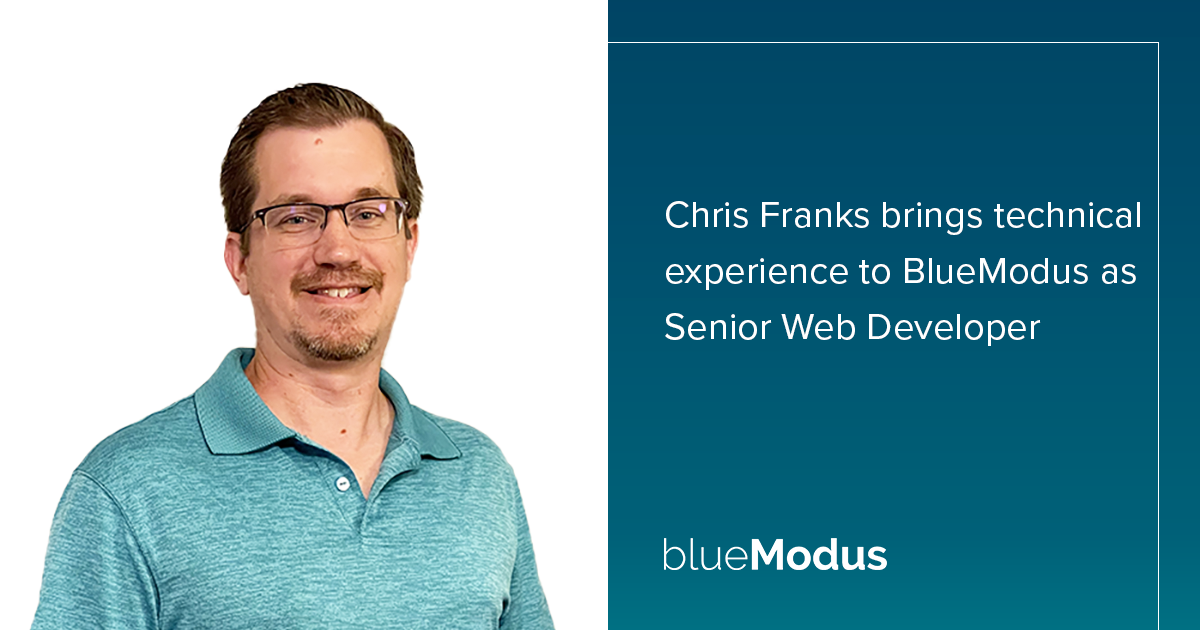 The BlueModus technical team is pleased to announce the arrival of Chris Franks, a Dallas-based Senior Web Developer. Chris has been working in the software industry for over eight years as a Full-Stack Developer and has developed solutions and projects for for-profit and non-profit organizations alike. His previous experience with cloud-based solutions involving .NET Core and Vue.js technologies led him to BlueModus. He is constantly looking to learn more. At BlueModus, Chris will be working with a team of Solution Leads, Web Development Leads, UX/UI Developers, QA Engineers, Project Managers, and Strategic Directors to build and maintain websites, webstores, intranets, and web applications for our clients.
"Chris is a passionate and experienced developer, a natural helper, and an intuitive learner. We are confident that he is going to be a perfect fit and deliver outstanding solutions for our partners as a Senior Web Developer at BlueModus," says Josh Sherman, BlueModus Innovation Director.
Chris has worked at Daystar Television, one of the largest international faith-based networks, since 2018 - initially as a Back-end Web Developer/Webmaster and eventually as a Lead Developer/Solution Architect. Chris helped design and implement Daystar Partner Center, a website to process donations hosted on Azure. In addition, Chris worked for Standander Consumer USA from 2014 to 2018, a full-service consumer finance company focused on vehicle financing with more than 3.1 million clients. Chris developed web applications for Standander's Accounting Team using .NET solutions for loan accounting web applications that resolved payment errors and exceptions.
"What attracted me to BlueModus was the culture - it seemed very genuine. It was evident that the Leadership Team really cares about their employees and the work they do. I wanted to be a part of that collaborative environment," says Chris.