BlueModus News
Jul 19, 2019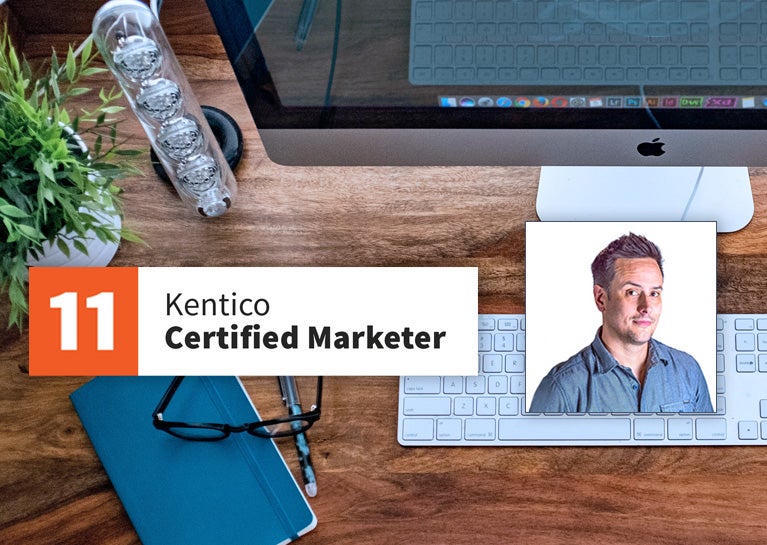 Congratulations to Brandon Hess, Director of Strategic Solutions at BlueModus, who has recently become Kentico Marketer Certified, through passing the Kentico 11 Certified Marketer Exam. To become certified, Brandon demonstrated his deep knowledge of Kentico's features and functionality, as well as showed practical experience using the product.
"Providing digital strategy in today's market relies not only on a willingness to learn and adapt, but having an understanding of the tactics and tools your clients have access to," says Brandon. "Validating my knowledge of Kentico is vital to my ability to provide relevant feedback to clients who rely on the platform day in and day out."
The Kentico 11 Certified Marketer Exam is a secure, online 90-minute test consisting of 50 multiple choice questions. It focuses on numerous topics, including web analytics, contact management and activity tracking, contact segmentation, content personalization, conversions, content optimization using both A/B and MVT testing, email marketing, campaigns, marketing automation, content marketing, pay-per-click and search engine optimization.
"Kentico is such a central part of what we do. Understanding more than the technology, but how it can be used meaningfully by marketers is critical to our customers' success," shares Becki Dilworth, Chief Marketing Officer at BlueModus. "Brandon's background in digital marketing paired with his expertise in Kentico is a game changer for our customers in using the tool to move the needle."
As the #1 Kentico Solution Partner in the world, BlueModus prioritizes maintaining a majority of its colleagues certified on the Kentico platform. At present, including Brandon, the company has 18 Kentico Certified Marketers and 35 Kentico Certified Developers on staff.
To find out more information about the Kentico's Certified Marketer exam, visit Kentico's website here. To learn more about Brandon's background, please check out his BlueModus profile.