BlueModus News
Sep 11, 2023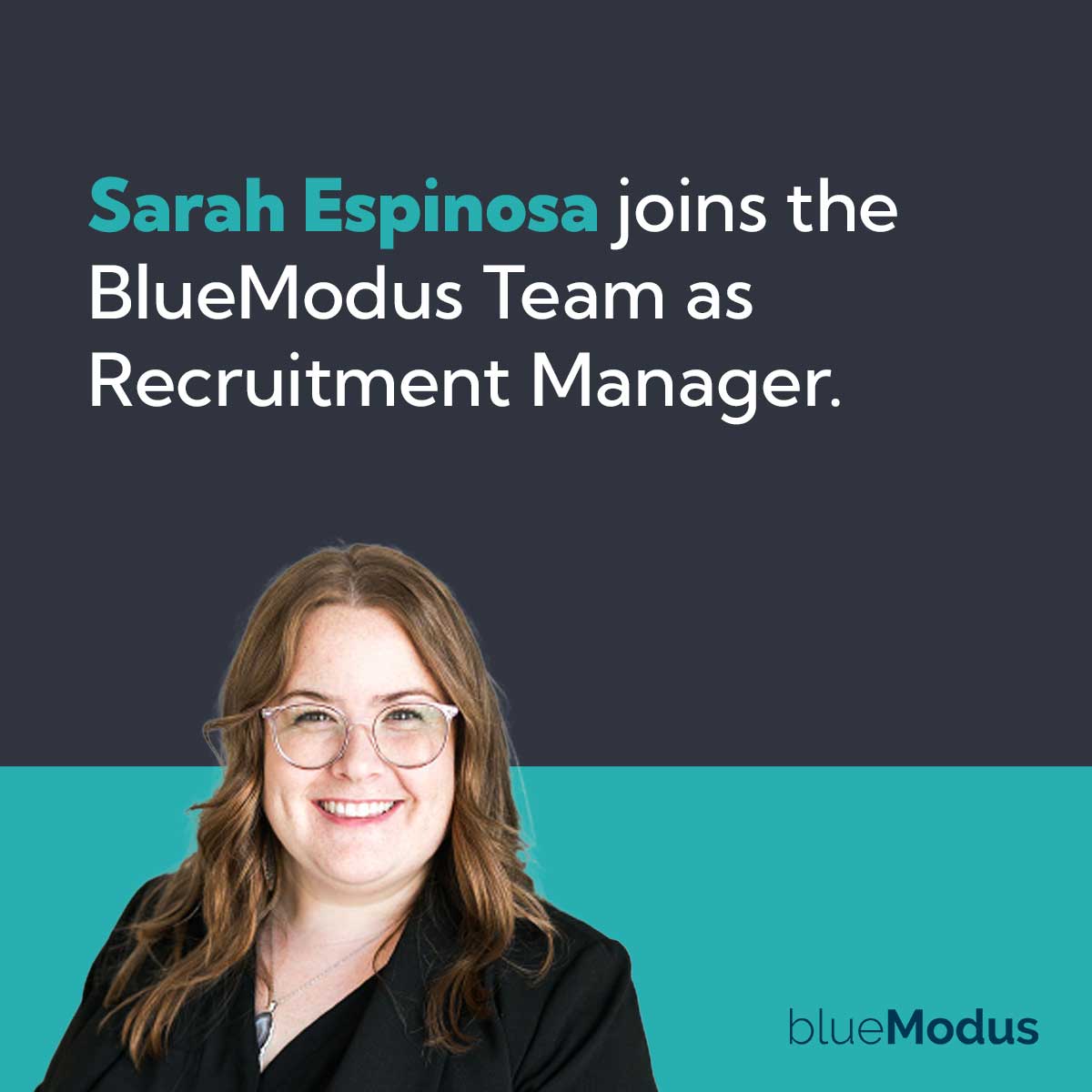 BlueModus is thrilled to announce the addition of Sarah Espinosa as our new Recruitment Manager. Sarah brings a wealth of experience and expertise in technical recruitment, making her an excellent fit for our team. As we continue to grow and expand our capabilities, Sarah's skills will be vital in sourcing top talent to join our fully remote technology agency.
Sarah joins us with a strong background in recruitment and talent management. With her previous roles at companies such as Syndio and Hartwig Staffing, she has developed a comprehensive understanding of the intricacies of technical recruiting and the importance of candidate experience. Throughout her career, she has successfully sourced and placed candidates across various roles within the web development industry, showcasing her ability to identify the right fit for both the candidates and the company.
When discussing what made her decide to join the BlueModus team, Sarah remarked, "BlueModus really came across as an organization dedicated to its people, which showed through with each person I spoke to during the interview process."
In her role as Recruitment Manager, Sarah will manage the end-to-end recruitment process, from sourcing and screening candidates to facilitating interviews and negotiating job offers. Her strong communication skills, experience with applicant tracking systems, and a keen eye for identifying technical talent will be essential in building a robust pipeline of candidates to support BlueModus' growth.
Sarah's passion for creating a positive candidate experience and her commitment to finding the right fit for both candidates and the company makes her a valuable addition to the BlueModus team. With her expertise, we are confident that we can continue attracting and hiring top-tier talent that will contribute to our ongoing success. As a Technical Recruiter, Sarah understands the need for a well-managed recruitment process that respects the time of both candidates and hiring managers. She personally vets and qualifies candidates before they even reach the interview stage, ensuring that only the most promising individuals move forward. This approach has led to an impressive 90% of candidates she passed through to hiring managers progressing to further stages.
Sarah's extensive technical recruiting experience is particularly noteworthy. Over the past 12 months with Syndio, she has successfully filled roles ranging from backend, frontend, and full stack engineers to QA specialists, project managers, product managers, UI/UX designers, DevOps engineers, site reliability experts, application support professionals, system administrators, and infrastructure specialists. Her wide-ranging expertise enables her to effectively collaborate with hiring managers, quickly identifying ideal candidates and presenting only the top-tier individuals for consideration.
Tom Whittaker, President and CEO of BlueModus, also expressed his enthusiasm about Sarah joining the team. "We are delighted to welcome Sarah to BlueModus. Her proven track record in technical recruiting and her dedication to candidate experience aligns perfectly with our company values and goals. As we continue to expand and take on new challenges, having Sarah on board will undoubtedly strengthen our recruitment efforts."
With her dedication to excellence and ability to build valuable networks, Sarah is well-prepared to contribute to BlueModus' ongoing growth. We are confident that her expertise will help us continue to attract exceptional talent and drive the success of our projects and initiatives.