BlueModus News
Sep 11, 2019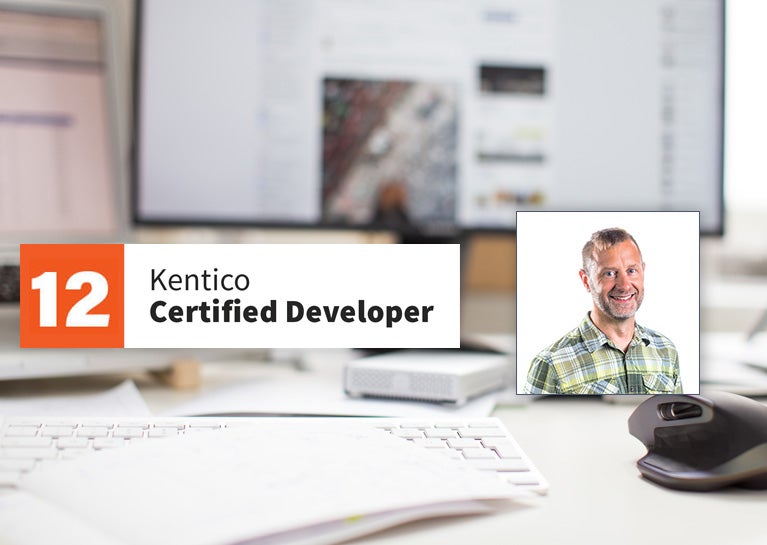 Congratulations to Andrew Coats, a Senior Solution Engineer at BlueModus, who has recently passed his Kentico 12 Certified Developer Exam, earning him the credentials of Kentico Certified Developer.
"In passing the Kentico Developer Certification exam, Andrew shows just how dedicated both he and BlueModus are towards ensuring that our development team's skillset is top notch and current," says Josh Sherman, BlueModus Director of Development. "We congratulate Andrew on his achievement!"
The Kentico 12 Certified Developer Exam is an online exam that must be completed within 90 minutes. Test takers must demonstrate their knowledge of Kentico's features and functionality, as well as their practical experience using the product. Major test topics include ASP.NET development, using the MS SQL database management language, creating data-driven web user interfaces, and the design, development, and maintenance of Kentico websites.
"Studying for the exam gives you a breadth of understanding about the many features of Kentico that you may not use daily when working on client projects," says Andrew. "Because the platform has so much functionality, often multiple approaches can be used to solve an issue. I find it's very valuable to know about the best practices and trade-offs of all the different possible approaches when creating solutions for clients."
BlueModus, as the top global Kentico Solution Partner, prioritizes having the majority of its colleagues certified on the Kentico platform. With the inclusion of Andrew, BlueModus currently boasts 41 Kentico Certified Developers and 20 Kentico Certified Marketers on its team.
To learn more about Andrew's experience, check out his BlueModus profile. Or if you are interested in becoming certified in Kentico, visit the Kentico Certified Developer Exam page to find out more.